Navigation
LakesnWoods.com
Home Page
Contact Us
Privacy
Minnesota History Shop

Visit The Minnesota History Shop
www.minnesotahistoryshop.com
Historic maps
Historic books
Historic framed art
Historic postcards
Clothing with historic images
And much more!!!


Lyle Guide:
Photo Gallery
Location
Geography
Demographics
History
Government
Post Office
News
Weather
Street Map
Events
Attractions
Recreation
Lakes
Health Care
Schools
Churches
Media
Motels
Resorts
Campgrounds
Businesses
Aerial Photo
Topographic Map
Nearby Communities:
Adams
Albert Lea
Austin
Brownsdale
Dexter
Elkton
Emmons
Glenville
Hayward
Le Roy
Myrtle
Rose Creek
Taopi
Twin Lakes
© 2004-2023
Lakeweb1 Internet Services
All Rights Reserved
DCMA, Defamation, Copyright and Trademark Infingement Policy
WANTED!
Do you have photos, historical accounts or other items pertaining to the Lyle area? Would you like to share this historical information with the world? LakesnWoods.com would like to publish your Lyle photos (current or historical) or historical accounts on this website. Original materials can be returned and your privacy will be respected.

Lyle Minnesota Community Guide
---
Location:
---
Population:
Lyle (city)
1970
1980
1990
2000
2010
2000-2010 Change
Actual
Percent
Population
522
576
504
566
551
-15
-2.65
Land Area (sq. mile)
1.00
0.84
0.77
0.77
0.76
-0.01
-1.30
Density (persons per sq. mile)
522.0
685.7
654.6
733.2
725.0
-8.2
-1.12
Housing Units
193
226
218
225
235
+10
+4.44
Households
--
212
204
211
220
+9
+4.27
Persons Per Household
--
2.72
2.47
2.68
2.50
-0.18
-6.72
---
Geography:
Lyle is a city in Mower County, Minnesota, United States. Surrounded by Lyle Township, most of the city lies within a mile of the Iowa border, as the state line is the city's southern border. According to the United States Census Bureau, the Lyle has a total area of 0.76 square miles (1.97 km2), all of it land. The elevation is 1,207 ft (367 m) above sea level.
From Wikipedia, the free encyclopedia.
---
Demographics:
As of the census of 2010, there were 551 people, 220 households, and 147 families residing in the city. The population density was 725.0 inhabitants per square mile (279.9/km2). There were 235 housing units at an average density of 309.2 per square mile (119.4/km2). The racial makeup of the city was 98.2% White, 0.2% Native American, 0.2% from other races, and 1.5% from two or more races. Hispanic or Latino of any race were 0.7% of the population.
There were 220 households of which 33.6% had children under the age of 18 living with them, 51.8% were married couples living together, 11.8% had a female householder with no husband present, 3.2% had a male householder with no wife present, and 33.2% were non-families. 30.5% of all households were made up of individuals and 16% had someone living alone who was 65 years of age or older. The average household size was 2.50 and the average family size was 3.06.
The median age in the city was 36.3 years. 27.2% of residents were under the age of 18; 8.4% were between the ages of 18 and 24; 23.6% were from 25 to 44; 26.1% were from 45 to 64; and 14.7% were 65 years of age or older. The gender makeup of the city was 48.3% male and 51.7% female.
---
---
History:
LYLE Township, organized in 1858, was named in honor of Robert Lyle, a native of Ohio, who settled here in November 1856, was judge of probate for the county, and in 1868 removed to Missouri. Lyle, a city in section 36, platted in 1870, was incorporated March 9, 1875. The post office was established in 1862 with Nathaniel P. Williams, postmaster; then was called Minnereka, 1870-71, with William Shellback as postmaster; and returned to Lyle in 1871, with Thorwald Irgens, postmaster; also known as Lyle Center. It had a station serving several lines, including the Chicago Great Western Railroad.
Courtesy Minnesota Historical Society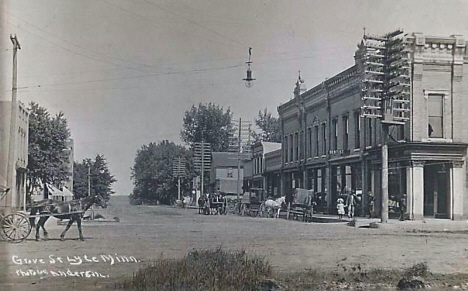 Grove Street, Lyle Minnesota, 1909
LakesnWoods.com Postcard and Postcard Image Collection - click image to enlarge

Visit The Lyle Photo Gallery for more recent and historic area photos
---
Government:
Lyle City Hall
315 1st Street
PO Box 247
Lyle, MN 55953
Phone: (507) 325-2311

Regular Business Hours:
Monday Tuesday Wednesday 8:00 am - 4:00 pm

City Council Meetings:
2nd Wednesday of each month at 7:00 pm



Title
Term Ends
Name and Address
Phone
Mayor
12/31/2022
Ronald C. Frank
310 5th Street - PO Box 100
Lyle, MN 55953
(507) 325-4524
Clerk Treasurer
appointed
Diane Witt
109 Grove Street - PO Box 247
Lyle, MN 55953
(507) 325-2311
Council Member
12/31/2022
Betty Fisher
407 4th Street - PO Box 205
Lyle, MN 55953
(507) 438-8051
Council Member
12/31/2022
Patrick James Branchaud
207 Locust Street - PO Box 146
Lyle, MN 55953
(507) 325-4603
Council Member
12/31/2024
Chase Douglas
111 Pine Street
Lyle, MN 55953
(507) 438-5225
Council Member
12/31/2024
Jesse Burma
511 4th Street
Lyle, MN 55953
(507) 438-9236
---
Post Office:
US Post Office
106 Grove Street
Lyle, MN 55953-9728
Phone: (507) 325-2215
Toll Free: (800) ASK-USPS

Regular Business Hours:
Week Days 10:45 am - 2:45 pm
Saturday 8:30 am - 9:30 am
---
---
Utilities:
---
Major Employers:
Employer
Products/Services
Employees

not available
---
---
News:
---
Weather:
---
Map: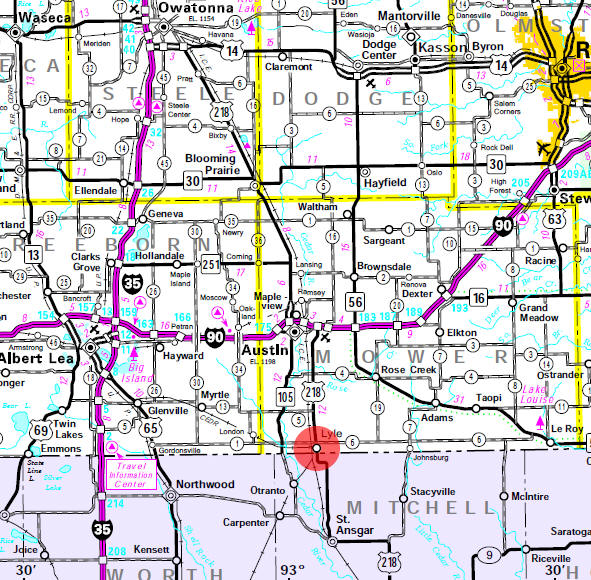 Minnesota State Highway Map of the Lyle Minnesota area
---
Events:
---
---
Attractions:
---
Recreation:
---
Lakes:
Lake Name
Size
(acres)
Lake info
Lake Map
Rec Map
Topo Map

none in the immediate area
---
Health Care:
---
Schools:
---
Churches:
Our Savior's Lutheran Church
103 Pershing Street
PO Box 127
Lyle, MN 55953
Phone: (507) 325-4684

Pastor: Barbara L Finley-Shea
Sunday Worship:

Queen of Peace Catholic Church
412 Main Street
Lyle, MN 55953
Phone: (507) 433-1532

Pastor:
Sunday Mass: 8:30 am

Six Mile Grove Lutheran Church - ELCA
PO Box 69
Lyle, MN 55953
Phone: (507) 325-2437
Web: www.sixmilegrovechurch.org

Pastor: Lydia J. Mittag
Sunday Worship: 9:00 am

Trinity Lutheran Parish
401 1st Street
Lyle, MN 55953
Phone: (507) 325-2437

Pastor:
Sunday Worship:
---
Media:
---
Motels:
Check for motel rates and availability on:
---
Resorts:
---
Campgrounds:
---
---
Businesses:
Absolute Energy, LLC
204 State Line Street
Lyle, MN 55953
Phone: (507) 325-1010
Web: www.absenergy.org
Ag Vantage FS
1392 State Line Street
Lyle, MN 55953
Phone: (641) 326-2361
Web: www.agvantagefs.com

AgVantage FS is a full-service agriculture and energy supplier dedicated to providing high quality products and services for the purpose of improving customer profitability.

Agri-Steel Inc
415 1st Street
Lyle, MN 55953
Phone: (507) 325-2382
Web: www.agri-steel.com

Agri-Steel, Inc. is an agricultural construction company providing custom solutions to the southern Minnesota-northern Iowa area for over 25 years. Situated on the MN-IA border in the small town of Lyle, Agri-Steel is able to provide a large number of services to the farming industry while maintaining small-town prices and customer contact.

American Tower Corporation
56215 110th Street
Lyle, MN 55953
Phone: (507) 553-5873
Web: www.americantower.com

American Tower is a leading owner and operator of communications sites for the wireless and broadcast industries. Our global solutions include over 32,000 towers, 2,000 managed rooftops, in-building and outdoor DAS (Distributed Antenna System) networks, and a suite of services that speed network deployment.

Cedar River Horse Logging & Wood Products
51127 130th Street
Lyle, Minnesota 55953
Phone: (507) 325-4197
Fax: (507) 325-4197
Web: www.cedarriverhorselogging.com
Fastframe
315 1st Street
Lyle, MN 55953
Phone: (507) 325-9900
Web: www.fastframe.com

FASTFRAME stores are individually owned and operated. Each of our dedicated owners are thoroughly trained in the latest custom picture framing technology to give you the look and style you want to display in your home or office. Because we carry so many materials in our stores, our response time is unbeatable – often you can get your piece framed the same day.

Freeborn County Co-Op Oil
301 1st Street
Lyle, MN 55953
Phone: (507) 325-2299
Greibrok Farms
89409 110th Street
Lyle, MN 55953
Phone: (507) 325-2572
Hanson Construction
11615 585th Avenue
Lyle, MN 55953
Phone: (507) 325-2509
Web: www.hansoncsc.com

Are you like many of our Hanson Construction clients in Southern Minnesota and Northern Iowa? Have you been looking for the finest in residential custom home construction, where the builder really listens to your dreams about the home you want? We specialize in custom homes, remodeling, additions, light commercial and beautifully designed custom cabinets. From rustic to elegant, we can utilize the many new and exciting products on the market today to turn your ideas into a captivating and exciting new environment.

Jeff P Kidder Company
110 Grove Street
Lyle, MN 55953
Phone: (641) 326-2333
K C Lawn Care & Snow Removal
306 Locust Street
Lyle, MN 55953
Phone: (507) 325-1202
Lyle Body Shop
402 1st Street
Lyle MN 55953
Phone: (507) 325-2536
Lyle City Hall
109 Grove Street
Lyle, MN 55953
Phone: (507) 325-2311
Web: www.lylemn.org
Lyle Community Library
107 Grove Street
Lyle, MN 55953
Phone: (507) 325-2369
Web: www.lylemn.org/library.html
Lyle Legion
112 Grove Street
Lyle, MN 55953
Phone: (507) 325-4134
Lyle Liquor Bar and Grill
211 1st Street
Lyle, MN 55953
Phone:

(507) 325-2356

Lyle Lumber
56452 105th Street
Lyle, MN 55953
Phone: (507) 325-2550
Lyle Secondary School
700 E 2nd Street
Lyle, MN 55953
Phone: (507) 325-2201
Fax: (507) 325-4611
Web: www.lyle.k12.mn.us
Mr. Sam Communications
10476 585th Avenue
Lyle, MN 55953
Phone: (507) 325-4760
Web: www.mrsam.com
Northern Country Co-Op
416 1st Street
Lyle, MN 55953
Phone: (507) 325-4668
Web: www.ncountrycoop.com

Northern Country Coop is a full service cooperative serving it's farmers since 1908. Northern Country Coop's primary business is buying and selling grain; grain storage and drying; sales and services of seed, fertilizer and chemicals; feed manufacturing (Northern Country Feeds, LLC); lumber sales; and several other services.

Orion Fitness Center
Lyle, MN 55953
Phone: (641) 713-3114
Our Savior's Lutheran Church
103 Pershing Street
Lyle, MN 55953
Phone: (507) 325-4684
Silver Pearl
315 1st Street
Lyle, MN 55953
Phone: (507) 325-9902
Six Mile Grove Lutheran Church - ELCA
PO Box 69
Lyle, MN 55953
Phone: (507) 325-2437
Web: www.sixmilegrovechurch.org

Pastor: Lydia J. Mittag
Sunday Worship: 9:00 am

Sterling State Bank
403 1st Street
Lyle, MN 55953
Phone: (507) 325-2227
Web: www.sterlingstatebank.com

Sterling State Bank is still locally owned and operated. Denzil McNeilus and Thomas Winkels (both Minnesota boys) are the majority owners of the bank. Justin McNeilus, son of Denzil, works in the banks full time. Denzil, Tom and Justin do not believe in projecting an imaginary wall between ownership and customers; they invite each Sterling State Bank customer to stop in and say, "Hi!" Sterling State Bank is proud of the hard work we direct toward understanding and assisting the needs, and dreams, of our customers. As we grow, we look forward to another 50 years of service in our communities – welcoming our visitors with genuine interest each time our doors open. Give us the opportunity to invest in our most important relationship: you!

Trinity Lutheran Parish
401 1st Street
Lyle, MN 55953
Phone: (507) 325-2437
US Post Office
106 Grove Street
Lyle, MN 55953-9728
Phone: (507) 325-2215
Toll Free: (800) ASK-USPS
Web: www.usps.com
Young Truck Lines
509 1st Street
Lyle, MN 55953 55953
Phone: (507) 325-2290
---
---
Aerial Photo:
---
Topographic Map: [click map to enlarge, zoom in or zoom out]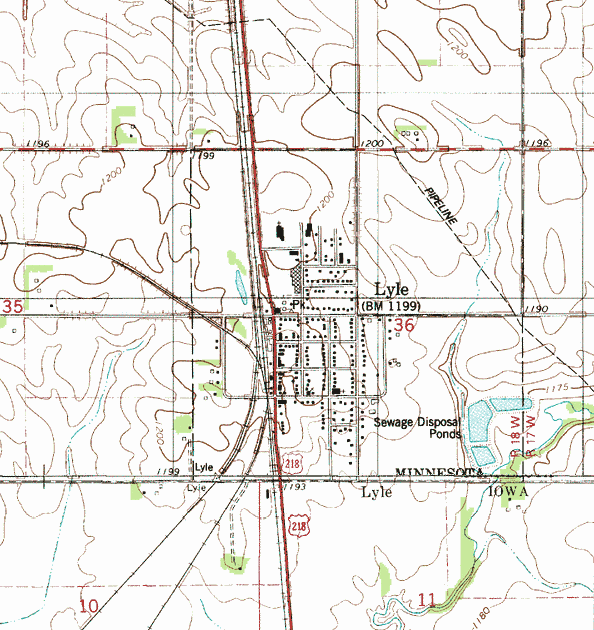 Topographic map is courtesy of the Minnesota DNR - click map to zoom or enlarge