Navigation
LakesnWoods.com
Home Page
Contact Us
Privacy
Minnesota History Shop

Visit The Minnesota History Shop
www.minnesotahistoryshop.com
Historic maps
Historic books
Historic framed art
Historic postcards
Clothing with historic images
And much more!!!

Canton Guide:
Photo Gallery
Location
Geography
Demographics
History
Government
Post Office
News
Weather
Street Map
Events
Attractions
Recreation
Lakes
Health Care
Schools
Churches
Media
Motels
Resorts
Campgrounds
Businesses
Aerial Photo
Topographic Map
Nearby Communities:
Caledonia
Fountain
Harmony
Lanesboro
Mabel
Preston
Rushford
Spring Grove
Spring Valley
Whalan
Wykoff
© 2004-2023
Lakeweb1 Internet Services
All Rights Reserved
DCMA, Defamation, Copyright and Trademark Infingement Policy
WANTED!
Do you have photos, historical accounts or other items pertaining to the Canton area? Would you like to share this historical information with the world? LakesnWoods.com would like to publish your Canton photos (current or historical) or historical accounts on this website. Original materials can be returned and your privacy will be respected.


(design available on over 100 different items!)

Canton Minnesota Community Guide
---
Location:
---
Population:
Canton (city)
1970
1980
1990
2000
2010
2000-2010 Change
Actual
Percent
Population
391
386
362
343
346
+3
+0.87
Land Area (sq. mile)
1.00
0.99
0.99
1.00
1.00
0
0.00
Density (persons per sq. mile)
391.00
389.90
365.66
343.00
346.00
+3
+0.87
Housing Units
163
187
177
171
177
+6
+3.51
Households
--
169
160
157
162
+5
+3.18
Persons Per Household
--
2.28
2.26
2.18
2.14
-0.04
-1.83
---
Geography:
Canton is a city in Fillmore County, Minnesota. According to the United States Census Bureau, the city has a total area of 1.00 square miles (2.59 km˛), all of it land. The elevation is 1,345 ft (410 m). US Highway 52 is a main route in the city.
From Wikipedia, the free encyclopedia.
---
Demographics:
As of the census of 2010, there were 346 people, 162 households, and 88 families residing in the city. The population density was 346.0 inhabitants per square mile (133.6/km2). There were 177 housing units at an average density of 177.0 per square mile (68.3/km2). The racial makeup of the city was 99.7% White and 0.3% from two or more races. Hispanic or Latino of any race were 0.6% of the population.
There were 162 households of which 25.3% had children under the age of 18 living with them, 43.2% were married couples living together, 7.4% had a female householder with no husband present, 3.7% had a male householder with no wife present, and 45.7% were non-families. 40.1% of all households were made up of individuals and 19.8% had someone living alone who was 65 years of age or older. The average household size was 2.14 and the average family size was 2.88.
The median age in the city was 43.3 years. 23.4% of residents were under the age of 18; 4.9% were between the ages of 18 and 24; 23.4% were from 25 to 44; 30.8% were from 45 to 64; and 17.3% were 65 years of age or older. The gender makeup of the city was 49.7% male and 50.3% female.
---
---
History:
CANTON, first settled in March 1851, was organized May 11, 1858. "There was a spirited contest over the name, and quite a number were suggested, but the struggle was finally narrowed down to two names, 'Elyria,' suggested by E. P. Eddy, and that of 'Canton,' proposed by Fred Flor. The vote declared, in favor of Canton, but the Elyria party gave up reluctantly. . . . On the records up to 1860, the name Elyria is carried along in the town books, when it dropped out of sight." These are names of cities in northeastern Ohio, near the former homes of many settlers in this township. Canton is a large and very ancient city of southeastern China, and thence 23 states of our Union have given this name to villages, cities, and townships. The city of Canton was platted in 1879 and incorporated as a village on May 9, 1887; the post office was called Boomer, 1879-82, for its "booming" existence as suggested by John Manuel, the first postmaster, changing to Canton in 1882, with James Manuel as postmaster.
Courtesy Minnesota Historical Society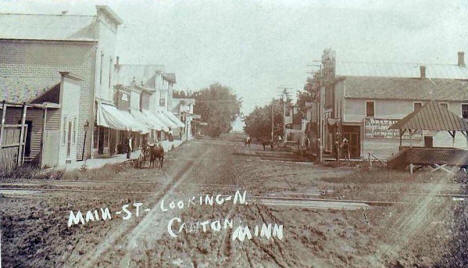 Main Street looking north, Canton Minnesota, 1900s
LakesnWoods.com Postcard and Postcard Image Collection - click to enlarge
Visit The Canton Photo Gallery for more recent and historic area photos
---
Minnesota's Lost Towns Southern Edition

Includes Amherst Village, Big Springs, Bratsberg, Carimona, Cherry Grove, Choice, Clear Grit, Elliota, Etna, Fillmore Village and 12 more in Fillmore County!





Pack your bags and come along as we journey to over 125 lost towns in Southern Minnesota. Read how the Civil War, changes in transportation, county seat disputes and other historical happenings changed Minnesota's landscape. Learn how and why lost towns and communities were created, how they thrived and why they eventually faded into history. Visit the people and places of Southern Minnesota in this fourth edition of the Minnesota's Lost Towns series. Be sure to check out the other titles in the series: Northern, Central, and Northern II.

Buy This Book
---
Government:
Canton City Hall
106 N Main Street
PO Box 92
Canton, MN, 55922
Phone: (507) 743-5000

Regular Business Hours:
Monday - Thursday 7:30 am - 2:00 pm
Friday 8:00 am - 12:00 pm

City Council Meetings:
2nd Wednesday of the month at 6:00 pm
Title
Term Ends
Name and Address
Phone
Mayor
12/31/2022
Nicholas Prestby
302 Canton Avenue
Canton, MN 55922
(507) 743-8400
Clerk/Treasurer
appointed
Brock Bergey
PO Box 92
Canton, MN 55922
(507) 743-5000
Council Member
12/31/2022
Carl Ernst
205 Ash Street N
Canton, MN 55922
(507) 743-8552
Council Member
12/31/2022
Charlie Warner
301 N 1st Street
Canton, MN 55922
(507) 459-9618
Council Member
12/31/2024
Cindy Shanks
106 S Main Street
Canton, MN 55922
(507) 743-8484
Council Member
12/31/2024
Randy Gossman
203 Oak Street N
Canton, MN 55922
(507) 458-0593
---
Post Office:
US Post Office
308 N Main Street
Canton, MN 55922-1021
Phone: (507) 743-2256
Toll Free: (800) ASK-USPS

Regular Business Hours:
Week Days 12:00 pm - 4:00 pm
Saturday 10:00 am - 12:00 pm
---
---
Utilities:
---
Major Employers:
Employer
Products/Services
Employees
n/a
---
---
News:
---
Weather:
---
Map: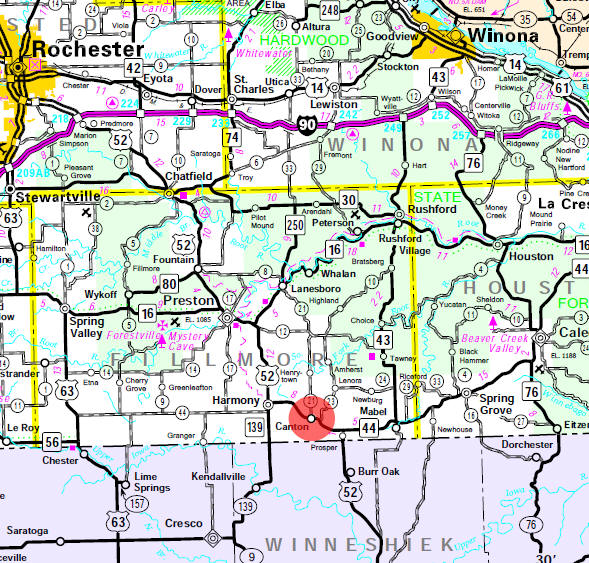 Minnesota State Highway Map of the Canton Minnesota area
---
Events:
| | |
| --- | --- |
| For many years the highlight of the social life of Canton was its "Day Off". During the final of the nineteenth century, the Ladies Aid Society of the Church of the Assumption, sponsored a church supper on August 15th which is the feast day of the Assumption in the Catholic liturgy. In 1903, the leader of the Canton bank, Percy Young, offered to bring the band to entertain during the dinner. The following year, the celebration moved downtown and on August 15, 1904, the whole town sponsored a day long festival the first "Day Off". By the first world war, Canton's "Day Off" had become a regional event and special trains were run to bring in out-of-town visitors. Festivities were increased to include county championship baseball games, speakers, merry-go-rounds, aerialist acts, and evening dances at the town hall. Annual "Day Off" celebrations were held in Canton for over 50 years. | |
---
---
Attractions:
Amish Farmer's Market
Canton, MN 55922

Amish Community



The Amish of Harmony make a living by farming, working construction jobs, and like Swartzentruber counterparts in the Ethridge, Tennessee Amish settlement, various communities Ohio, and numerous other states, by operating low-tech businesses. Basket, furniture, and quilt-making are popular here (read more here on Amish furniture in Minnesota). Jams, rugs, quilts, baked goods, and cashew crunch are among the items available for sale at local Amish homes.
---
Recreation:
---
Lakes:
Lake Name
Size
(acres)
Lake info
Lake Map
Rec Map
Topo Map

none in the immediate area
---
Health Care:
---
Schools:
---
Churches:
Assumption Catholic Church
207 N May
Canton, MN 55922
Phone: (507) 743-8320
Web: www.holyfamilyfillmoreco.org

Pastor: Monsignor Donald P. Schmitz
Saturday Mass: 5:00 pm
Sunday Worship: none

Canton-Scotland Presbyterian Church
104 W Fillmore Avenue
Canton, MN 55922
Phone: (507) 743-2260

Pastor: Rev. Amy Perkins
Sunday Worship: 9:00 am

Henrytown Lutheran Church - ELCA
36190 County Road 18
PO Box 103
Canton, MN 55922
Phone: (507) 886-2425

Pastor: Dean Safe
Sunday Worship: 10:30 am
---
Media:
---
Motels:
Check for motel rates and availability on:
---
Resorts:
---
Campgrounds:
---
---
Businesses:
Alliance Land Company
36349 146th Street
Canton, MN 55922
Phone: (507) 743-3000
Web: www.allianceland.net



Whether you are looking for farmland, investment properties, recreational land with trout streams, or residential properties we are sure you will find something of interest to you. Should you have any questions regarding any of the properties, don't hesitate to Contact Us.

American Legion Post 400
114 N Main Street
Canton, MN 55922
Phone: (507) 493-5127
Amherst Auto Sales
520 W Highway 52 # B
Canton, MN 55922
Phone: (507) 743-2268
Autos by Owners
307 N Ash
Canton, MN 55922
Phone: (507) 743-8519
Badgersett Farm
18606 Deer Road
Canton, MN 55922
Phone: (507) 743-8570
Web: www.badgersett.com

With roots going back to 1978, Badgersett Research Corporation works on bringing "Woody Agriculture" into the mainstream world of full scale staple food production. Besides selling the nuts we grow, we breed and sell seedlings of hybrid hazelnuts and hybrid chestnuts, and we are involved in all aspects of commercializing these crops, from developing machinery and harvest procedures to consumer products and marketing.

Canton Car Wash and Laundromat
101 W Canton Avenue
Canton MN 55922
Phone: n/a
Canton City Clerk
105 S Main Street
Canton, MN 55922
Phone: (507) 743-5000
Canton Community Hall
105 S Main Street
Canton, MN 55922
Phone: (507) 743-8548
Canton Fire Department
105 S Main Street
Canton, MN 55922
Phone: (507) 743-8548
Canton Township Shed
307 E Prairie Avenue
Canton, MN 55922
Phone: (507) 743-2239
Countryside Auto Sales
510 W Highway 52
Canton, MN 55922
Phone: (507) 743-8374
Coyote Hill Trucking and Excavating
18264 County Road 23
Canton, MN 55922
Phone: (507) 458-2898



Licensed MN/IA Septic Installer, Demolition, Rock Busting, Stump/brush removal, Thumb/Jack Hammer Work, Waterlines, and etc. Call Trent at 507-458-2898

Davis Construction LLC
12516 US Highway 52
Canton, MN 55922
Phone: (507) 743-8366
Eiken Farms
17112 371st Avenue
Canton, MN 55922
Phone: (507) 886-2342
First Southeast Bank
111 N Main Street
Canton, MN 55922
Phone: (507) 743-2204
Web: www.firstsoutheastbank.com

For nearly 120 years, our dedicated staff have made it their top priority to provide exemplary service to the communities in which we live, worship, work and play. We are glad for our customers who have chosen us to provide the financial services they have come to rely on for their personal and business needs. If you are not currently a customer, we would be happy to show you how we can become your trusted partner for all of your financial needs. At First Southeast Bank, our customers and the communities we serve are our number one priority and we look forward to serving now and for years to come.

Fishbaugher Repair
14894 County 21
Canton, MN 55922
Phone: (507) 743-3006
Head and Tails Taxidermy
16004 County Road 23
Canton, MN 55922
Phone: (507) 743-8638
Lumberyard Antiques
105 N Main Street
PO Box 102
Canton, MN 55922
Phone: (507) 743-8338



Our store offers five rooms filled with antiques, collectables, art, books, jewelry, primitives and more! We add new items regularly. Come check us out and enjoy a cup of coffee on our lovely back patio.

Newman Heating and Cooling
105 S West Street
Canton, MN 55922
Phone: (507) 743-8325
Web: www.newmanheatingandcooling.com



Sales and installation for both residential and light commercial heating and cooling systems Problem diagnosis and repair of heating or cooling system failures - Service on all makes and models - Gas, Oil, Electric, Geo-Thermal Routine Maintenance and Safety Inspection Geo-Thermal - Planning, Sales, Installation and repair of the latest Geo-Thermal technology Licensed and Insured - OSHA HVAC Trained and Certified Plumbing - Master Plumber licensed and bonded for all your plumbing needs

Old Crow Antiques and Amish Tours
101 Highway 52
Canton, MN 55922
Phone: (507) 743-8400
Web: oldcrowantiques.blogspot.com



We moved to SE Minnesota to be closer to the source of our Antique business. As a bonus we are located in the center of the largest Amish community west of the Mississippi river. The Amish are our friends, neighbors & business partners. The bucolic lifestyle they lead, is an inspiration to us & our antique business. Through our Amish tours- we can open a window into how life was here in SE Minnesota before cars & electricity were the norm.

Preston Dairy & Farm
601 W Highway 52
Canton, MN 55922
Phone: (507) 743-2250
Road Side Bakery
US Highway 52 (1 mile w of Canton)
Canton, MN 55922
Phone: n/a



Amish owned and operated. Pies, honey, breads, candy, soaps, rugs, baskets & more

Sarah's Diner
601 W US Highway 52
Canton, MN 55922
Phone: (507) 743-8204
Schwartzenberger Baskets
34330 130th Street
Canton, MN 55922
Phone: n/a



Amish owned and operated. Baskets, loom rugs, hickory rockers, real leather belts, aevoratic jewelry box

Southern Minnesota Urethanes
400 W Highway 52
Canton, MN 55922
Phone: (507) 743-6000
Web: www.mnurethanes.com



Southern Minnesota Urethanes, LLC has 21 years in business experience in the application and maintenance of spray applied polyurethane foam systems and protective coatings throughout the midwest.

Springside Farm
12620 Deer Road
Canton, MN 55922
Phone: (507) 743-8326



Springside Farm produces all-natural, pasture raised cow milk for a cooperative. Milk is available to consumers, although those interested in purchasing the milk should contact the farm ahead of time to inquire about availability. Milk should be available year-round.

Stortz Satellite
14688 385th Avenue
Canton, MN 55922
Phone: (507) 743-8486
US Post Office
308 N Main Street
Canton, MN 55922-1021
Phone: (507) 743-2256
Toll Free: (800) ASK-USPS
Web: www.usps.com
Wild Red's Canton Pub
110 N Main Street
Canton, MN 55922
Phone: (507) 743-8565


Yoder B & H
County Road 21 (1 mile n of Canton)
Canton, MN 55922
Phone: n/a



Amish owned and operated. Quality leather items, custom saddles, tack, honey, jam & more

ZZ Tap
200 N Main Street
Canton, MN 55922
Phone: (507) 743-8361


---
---
Aerial Photo:
---
Topographic Map: [click map to enlarge, zoom in or zoom out]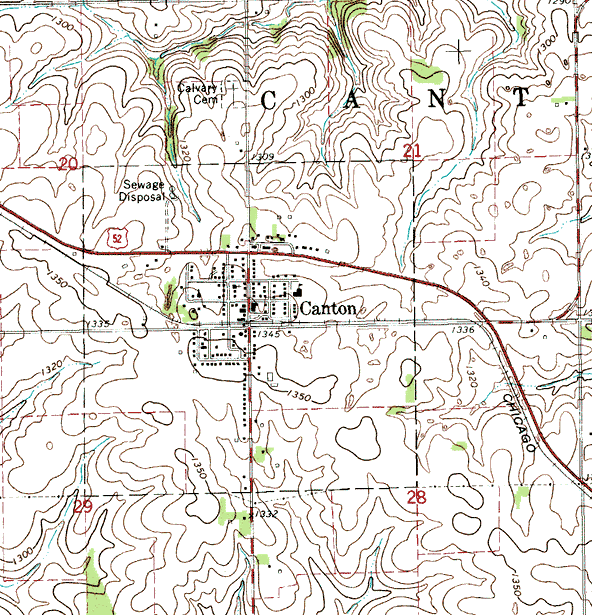 Topographic map is courtesy of the Minnesota DNR - click map to zoom or enlarge