Navigation
LakesnWoods.com
Home Page
Contact Us
Privacy
Minnesota History Shop

Visit The Minnesota History Shop
www.minnesotahistoryshop.com
Historic maps
Historic books
Historic framed art
Historic postcards
Clothing with historic images
And much more!!!

Harmony Guide:
Photo Gallery
Location
Geography
Demographics
History
Government
Post Office
News
Weather
Street Map
Events
Attractions
Recreation
Lakes
Health Care
Schools
Churches
Media
Motels
Resorts
Campgrounds
Businesses
Aerial Photo
Topographic Map
Nearby Communities:
Caledonia
Canton
Fountain
Lanesboro
Mabel
Preston
Rushford
Spring Grove
Spring Valley
Whalan
Wykoff
© 2004-2023
Lakeweb1 Internet Services
All Rights Reserved
DCMA, Defamation, Copyright and Trademark Infingement Policy
WANTED!
Do you have photos, historical accounts or other items pertaining to the Harmony area? Would you like to share this historical information with the world? LakesnWoods.com would like to publish your Harmony photos (current or historical) or historical accounts on this website. Original materials can be returned and your privacy will be respected.

Harmony Minnesota Community Guide
---
Location:
---
Population:
Harmony (city)
1970
1980
1990
2000
2010
2000-2010 Change
Actual
Percent
Population
1,130
1,133
1,081
1,080
1,020
-60
-5.56
Land Area (sq. mile)
0.90
1.14
1.12
1.14
1.14
0
0.00
Density (persons per sq. mile)
1,255.56
993.86
965.18
948.89
894.74
-55.15
-5.81
Housing Units
440
483
486
500
541
+41
+8.20
Households
--
469
461
477
479
+2
+0.42
Persons Per Household
--
2.29
2.25
2.16
2.13
-0.03
-1.39
---
Geography:
Harmony is a city in Fillmore County, Minnesota. U.S. Highway 52 and Minnesota Highway 139 are two of the main routes in the community. According to the United States Census Bureau, the city has a total area of 1.13 square miles (2.93 km²), all of it land. The elevation is 1,352 ft (412 m) above sea level.
From Wikipedia, the free encyclopedia.
---
Demographics:
As of the census of 2010, there were 1,020 people, 479 households, and 273 families residing in the city. The population density was 902.7 inhabitants per square mile (348.5/km2). There were 541 housing units at an average density of 478.8 per square mile (184.9/km2). The racial makeup of the city was 98.1% White, 0.3% African American, 0.2% Native American, 0.2% Asian, and 1.2% from two or more races. Hispanic or Latino of any race were 1.0% of the population.
There were 479 households of which 20.5% had children under the age of 18 living with them, 47.8% were married couples living together, 6.3% had a female householder with no husband present, 2.9% had a male householder with no wife present, and 43.0% were non-families. 38.8% of all households were made up of individuals and 22.7% had someone living alone who was 65 years of age or older. The average household size was 2.02 and the average family size was 2.63.
The median age in the city was 53.3 years. 17.4% of residents were under the age of 18; 4.7% were between the ages of 18 and 24; 18.1% were from 25 to 44; 26.5% were from 45 to 64; and 33.2% were 65 years of age or older. The gender makeup of the city was 47.9% male and 52.1% female.
---
---
History:
HARMONY Township, settled in the fall of 1852, was organized, May 11, 1858. This name is borne by villages and townships in 15 states of our Union. The city of Harmony was founded in 1880, incorporated on January 8, 1896, and reincorporated on March 19, 1908. The post office was first at Peterson and then transferred to Harmony in 1862 as Windom for Senator William Windom; the name changed to Harmony in 1865.
Courtesy Minnesota Historical Society
---
Minnesota's Lost Towns Southern Edition

Includes Amherst Village, Big Springs, Bratsberg, Carimona, Cherry Grove, Choice, Clear Grit, Elliota, Etna, Fillmore Village and 12 more in Fillmore County!





Pack your bags and come along as we journey to over 125 lost towns in Southern Minnesota. Read how the Civil War, changes in transportation, county seat disputes and other historical happenings changed Minnesota's landscape. Learn how and why lost towns and communities were created, how they thrived and why they eventually faded into history. Visit the people and places of Southern Minnesota in this fourth edition of the Minnesota's Lost Towns series. Be sure to check out the other titles in the series: Northern, Central, and Northern II.

Buy This Book
---
Government:
Harmony City Hall
225 3rd Avenue SW
PO Box 488
Harmony, MN 55939
Phone: (507) 886-8122
Fax: (507) 886-2818

Regular Business Hours:
Monday - Friday 8:00 am - 4:30 pm

City Council Meetings:
2nd Tuesday of the month at 7:00 pm


Title
Term Ends
Name and Address
Phone
Mayor
12/31/2022
Steve Donney
348 5th Avenue SE
Harmony, MN 55939
(507) 951-4320
(507) 886-2304
City Administrator
appointed
Devin Swanberg
225 3rd Avenue SW
Harmony, MN 55939
(507) 886-8122
Council Member
12/31/2022
Tony Webber
360 Main Avenue S
Harmony, MN 55939
(507) 273-7783
Council Member
12/31/2022
Stephen W. Sagen
362 5th Avenue SE
Harmony, MN 55939
(507) 886-2159
Council Member
12/31/2024
Domingo Kingsley
535 1st Avenue SE
Harmony, MN 55939
(563) 419-3178
Council Member
12/31/2024
Jesse Grabau
110 2nd Street NW
Harmony, MN 55939
(507) 273-1578
---
Post Office:
US Post Office
50 Main Avenue N
Harmony, MN 55939-8888
Phone: (507) 886-3772
Toll Free: (800) ASK-USPS

Regular Business Hours:
Week Days 8:30 am - 12:30 pm
1:30 pm - 4:00 pm
Saturday 9:00 am - 10:30 am
---
Utilities:
---
Major Employers:
---
---
News:
---
Weather:
---
Map: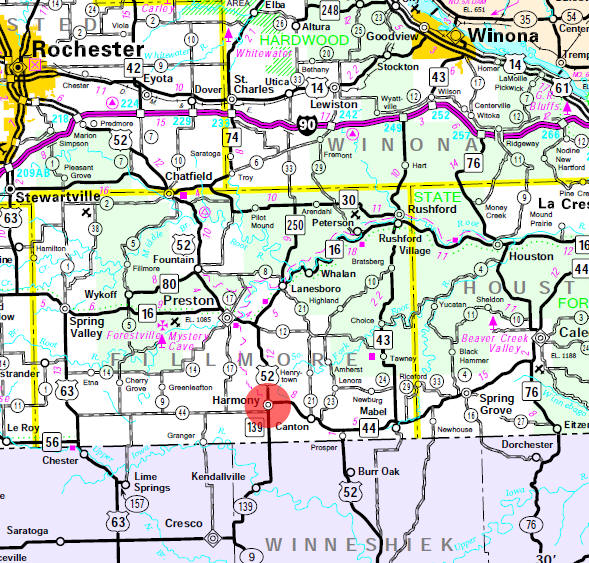 Minnesota State Highway Map of the Harmony Minnesota area
---
Events:
Old Fashioned 4th of July

July 4th

Fall Foliage Days

1st weekend in October
---
---
Attractions:
Amish Tours of Harmony
94 2nd Street NE
Harmony, MN 55939
Phone: (507) 886-2303
Web: www.amish-tours.com

As we travel through this beautiful rolling countryside, Amish farmers may be seen working in the fields with horses and horse-drawn equipment, and their buggies may be seen tied to hitching posts in town. You will be fascinated by the Amish way of dress and by the children swinging their lunch baskets as they stroll home from school. For over twenty years our guides have been providing top quality tours at reasonable prices. They will tell you about the Amish culture and history as we make our way through the countryside stopping at several Amish farms where they have little shops with baskets, quilts, furniture, baked goods and much more.

Harmony Area Historical Society
15 2nd Street NW
Harmony, MN 55939
Phone: (507) 886-
Web: www.harmonymnhistory.org



Harmony has long been known as "The Biggest Little town in Southern Minnesota"; discover the big history of this little town. The Harmony Area Historical Society is committed to the collection, preservation, dissemination and interpretation of knowledge about the history of the Harmony Area and its unique geology. The Historical Society has developed interpretive exhibits describing this history and geology. We have developed and supported permanent exhibits at the Harmony Visitor Center and along the Harmony - Preston Valley State Trail. In addition, the society creates temporary exhibits during the summer and special events during the year.

Harmony Visitor Center
15 2nd Avenue NW
Harmony, MN 55939
Phone: (507) 886-2469
Web: www.bluffcountry.com

The staff and volunteers are eager to help you plan a pleasant tour of the community by showing you information about local businesses and attractions. Welcome to Harmony, please stop in and see us.

Niagara Cave
29842 County Road 30
Harmony, MN 55939
Phone: (507) 886-6606
Web: www.niagaracave.com

Niagara Cave is an underground wonderland, millions of years in the making. It was discovered under a sinkhole and was explored and developed over the years as local residents turned the cave into a well-known tourist attraction. Located far beneath the surface of the earth, it has a consistent temperature of 48 degrees year round. There are many aspects of the cave which make it unique including a 60-foot waterfall, a crystal wedding chapel, fossils and stalactites.
---
Recreation:
Harmony-Preston Valley State Trail

Harmony-Preston Valley Trail connects Harmony to the Root River Trail system, and encompasses over 60 miles of recreational trail. The trail leaves Harmony and passes a variety of wooded areas and large panoramic views of rolling hills, spring-fed creeks and farm sites. The Harmony trail head features a park area complete with picnic shelter, playground and visitor information center. Bike rental is available in the area.

Harmony Golf Club
435 5th Street NE
Harmony, MN 55939
Phone: (507) 886-5622
Web: www.harmonygolfclub.com

Harmony Golf Club is located on the east edge of Harmony, MN. Our par 36, 9-hole course of 2,904 yards is challenging and fun for all. Clubhouse facilities and services include a pro shop, lounge and short order food services. Golf Carts and Pull Carts available. We have banquet facilities for special events or meetings. You may wish to combine a meeting with a pleasant round of golf.
---
---
Lakes:
Lake Name
Size
(acres)
Lake info
Lake Map
Rec Map
Topo Map

none in the immediate area
---
Health Care:
Gundersen Lutheran - Harmony Clinic
805 Main Avenue S
Harmony, MN 55939
Phone: (507) 886-8888
Web: www.gundluth.org/harmony

Gundersen Lutheran provides comprehensive care to residents of all ages throughout the Harmony region. From broken bones to well-child exams, our team of experts is here to help you. In most cases you will be able to see one of our providers the same day. We make it our priority to try to schedule our patients the same day they call for an appointment.
---
Schools:
Fillmore Central Schools
Independent School District #2198
700 Chatfield Avenue
Preston, MN 55965
Phone: (507) 765-3845
Fax: (507)765-2367
Web: www.fillmorecentral.k12.mn.us

Grades: PK-12
Students: 569

Fillmore Central High School
145 Main Avenue S
PO Box 599
Harmony, MN 55939
Phone: (507) 886-6464

Grades: 9-12
Students: 208

Fillmore Central Middle School
700 Chatfield Street
PO Box 50
Preston, MN 55965
Phone: (507) 765-3843

Grades: 5-8
Students: 142

Fillmore Central Elementary School
702 Chatfield Street
PO Box 50
Preston, MN 55965
Phone: (507) 765-3809

Grades: PK-4
Students: 219
---
Churches:
---
Media:
---
Bed & Breakfasts:
---
Motels:
Country Lodge Inn
525 Main Avenue S
Harmony, MN 55939
Phone: (507) 886-2515
Web: www.countrylodgeinnharmonymn.com

We are proud to provide comfortable lodging with as many of the amenities of home possible. The Country Lodge Inn is conveniently located on Highway 52 N. in Harmony, MN. You will be only 5 minutes away from downtown and bike trails, you will find numerous restaurant and shopping opportunities located with few blocks. There are several antique shops and an antique mall, as well as gift shops and art galleries. If you need to tackle a little work, then use your own laptop for free with our high speed internet access.
Check for motel rates and availability on:
---
Resorts:
---
Campgrounds:
City of Harmony Campground and Park
Harmony, MN 55939
Phone: (507) 886-2469
Toll Free: (800) 247-6466



Harmony's Municipal Campground is located just a short walk away from Harmony's downtown and the bike trail. They offer first come, first served RV spaces and tent camping.

Harvest Farm Campground
3690 318th Avenue
Harmony, MN 55939
Phone: (563) 883-8562
Web: www.wecamp.com

Harvest Farm was created by and for those who enjoy the peace and quiet of being in the country, away from city lights and sounds. We're more like a park where people camp and enjoy the great outdoors! You will experience a mixture of stately 100 plus year old Eastern White pine trees, magnificently aged Oaks and newly planted young trees, surrounded by 93 acres of manicured lawns, rustic woods, and rolling farmland. And with several wild flower plots throughout the park attracting a wide variety of songbirds, it makes for a truly relaxing environment.
---
---
Businesses:
American Legion Post #81
35 1st Avenue SE
PO Box 512
Harmony, MN 55939
Phone: (507) 886-6711



The Harmony American Legion has been a part of the Harmony community since 1919. They formed the very same year the organization started on a nationwide scale. This organization provides many valuable services to Harmony, including; Funeral services for military veterans (from all branches of service) Community flag display for holidays Marching in local parades Purchasing flags Flag disposal Additionally, the Harmony Legion will also serve at the new Minnesota State Veteran's Cemetery in Preston. All Legion groups within a 70 mile radius of the cemetery will take turns volunteering to provide services for burials.

Amish Connection
103 Main Avenue N
Harmony, MN 55939
Phone: (507) 886-2979
Web: www.village-depot.com/amishconnection.php

This building, located on Harmony's Main Street, has been home to everything from odd fellows and masons to a millinery shop. Today, it houses the popular gift shop "The Amish Connection". The Connection carries men's and women's clothing, baby gifts, table linens, dinnerware, small Amish furniture pieces and a selection or "lodge look" gifts. Two floors of merchandise, come in and browse.

closed

Amish Tours of Harmony
94 2nd Street NE
Harmony, MN 55939
Phone: (507) 886-2303
Web: www.amish-tours.com

As we travel through this beautiful rolling countryside, Amish farmers may be seen working in the fields with horses and horse-drawn equipment, and their buggies may be seen tied to hitching posts in town. You will be fascinated by the Amish way of dress and by the children swinging their lunch baskets as they stroll home from school. For over twenty years our guides have been providing top quality tours at reasonable prices. They will tell you about the Amish culture and history as we make our way through the countryside stopping at several Amish farms where they have little shops with baskets, quilts, furniture, baked goods and much more.

Ann-Tiques & Collectibles
260 4th Avenue SE
Harmony, MN 55939
Phone: (507) 886-2355

Nestled in the southeast residential area of Harmony, this beautiful little shop has everything from Victorian antiques to 1950's collectibles. Look for furniture, Red Wing, Depression glass, Forstoria, Shawnee, Fiesta, McCoy, Jewelry, Toys and Country Collectibles. Open June-October, Wednesday - Saturday, 10am-4pm.

Asahi Loft of Harmony
225 5th Street SE
Harmony, MN 55939
Phone: (507) 226-3735
Web: www.asahiloft.com



Nestled in the south east corner of Harmony, Minnesota, the Asahi Loft is heated and cooled by geothermal technology. That means no upstairs stuffy bedroom with a roaring window air conditioner. The Asahi Loft is a separate building located to the west of the Ofstedal's home and the deck overlooks rustic farm buildings. See additional info on airbnb.com.

Austin's Mohair & Gifts
14484 331st Avenue
Harmony, MN 55939
Phone: (507) 886-6731
Web: www.austinsmohair.com

Everything has Mohair on it or in it. These one-of-a-kind treasures can only be found in this Little Shop tucked away in SE Minnesota Amish Country. Stop in and see for yourself what people from all over the world have discovered . . . treasures for a lifetime.

closed

Batstone CPA LLC
15 Center Street E
Harmony, MN 55939
Phone: (507) 886-2272
Web: www.batstonecpa.com



Certified Public Accountants and Business Consultants Year-Round Tax Preparation Tax Consulting Financial statement services including preparation, audit, review and compilation Bookkeeping Payroll Business Planning Start Up Financial Analysis

Big Woods Graphics
56 Main Avenue N
Harmony, MN 55939
Phone: (507) 886-2328

Blaine's Auto Repair
150 2nd Street NE
Harmony, MN 55939
Phone: (507) 886-2626
Bluff Country Computer Works
35 1st Avenue SE
Harmony, MN 55939
Phone: (507) 886-9675
Web: www.bluffcountrycomputerworks.com

Bluff Country Computer Works is dedicated to supply local customers with great computer products and services. We do our best to develop a long-standing relationship with our clientele, which is built upon our ability to help identify and recommend the best solution for each customer's situation. Whether you are purchasing your first computer system and need some assistance or you are a business with a network support requirement; BCCW can help.

Boutique on Main
38 Main Ave N
Harmony, MN 55939
Phone: (507) 886-4584
Web: www.bom-boutiqueonmain.com



The BOM Boutique on Main opened its doors October 30th, 2015 in Harmony, MN, and is owned by Katie Lewis (left) and Kelly Grabau (right). As avid do-it-yourselfers, we have a keen appreciation for the unique talents of our fellow do-it-youselfers. Our goal is to bring the unique and original craftsmanship of folks right here in our community to you! Our selection currently contains some unique, handmade home and garden decor, handmade jewelry, handbags and accessories, goat milk soap and lotion, soy candles, and loose leaf tea. We have now added a clothing line as well!

Bronson Mobile Repair
22325 County Road 44
Harmony, MN 55939
Phone: (507) 402-2720
Camp Creek Hardscapes
16322 295th Avenue
Harmony, MN 55939
Phone: (507) 886-6971



Retaining Walls - Planters - Steps - Patios - Pillars - Paver Edging - Dry Creek Beds - Planting Beds, and more... Whatever your needs, let us "Get 'er Done" for you! Post here, Send a PM, or Call/Text (507) 272-2692.

Central Fillmore Foods
855 Wickett Drive NW
Harmony, MN 55939
Phone: (507) 886-2894
Cetera Investment Services
17 Center Street E
Harmony, MN 55939
Phone: (507) 886-3300
Clara House of Harmony
455 Main Avenue N
Harmony, MN 55939
Phone: (507) 886-6515
Web: www.theclarahouse.com



Clara House Senior Living is a leading provider of assisted living services to the communities of southeast Minnesota and west central Wisconsin. Residents of the Clara House enjoy the comforts of home and the personalized services they need and prefer in one of our freestanding residences located in the beautiful Mississippi River Valley. Clara House offers 24-hour high quality care in a quiet residential setting to those who require assistance with activities of daily living.

Country Lodge Inn
525 Main Avenue S
Harmony, MN 55939
Phone: (507) 886-2515
Web: www.countrylodgeinnharmonymn.com

We are proud to provide comfortable lodging with as many of the amenities of home possible. The Country Lodge Inn is conveniently located on Highway 52 N. in Harmony, MN. You will be only 5 minutes away from downtown and bike trails, you will find numerous restaurant and shopping opportunities located with few blocks. There are several antique shops and an antique mall, as well as gift shops and art galleries. If you need to tackle a little work, then use your own laptop for free with our high speed internet access.

Countryside Furniture
16605 351st Avenue
Harmony, MN 55939
Phone: (507) 206-9260



Quality solid hardwoods and Amish craftsmanship. Browse our many furnishings and other quality handmade goods in our Countryside Gift Shop. Dennis and Mary Hershberger.

Crop Production Services Inc
13723 US Highway 52
Harmony, MN 55939
Phone: (507) 886-4222
Web: www.cpsagu.com



"We are committed to being the leading provider of agricultural inputs in each of our markets. We will attract and retain outstanding employees by motivating and rewarding them for their accomplishments in providing exceptional service to our valued customers."

Dacia's On Main
130 Main Avenue S
Harmony, MN 55939
Phone: (507) 886-4247

Full service salon: hair, nails, pedicures, waxing and tanning. Call 507-886-HAIR. Open Monday - Saturday; Monday-Thursday evenings.

Engelhardt Repair
10030 County 116
Harmony, MN 55939
Phone: (507) 772-4467
Essence of Harmony
45 Main Avenue N
Harmony, MN 55939
Phone: (507) 886-5392



We are a secondhand boutique featuring gently used clothing, accessories, collectables, kitchenware, books, toys, home décor and more! All proceeds from the shop are contributed to and dispersed by the Harmony Area Community Foundation to support projects that improve the Harmony and greater Fillmore County area.

Estelle's Eatery and Bar
121 Main Avenue N
Harmony, MN 55939
Phone: (507) 886-1234
Web: www.estelleseatery.com



We are focused on being a scratch kitchen with a menu that will rotate according to the seasons. We also have many different craft beers available on tap and in the bottle or can. Estelle's does have a full bar! So come on in for a bite to eat and a drink! We are excited about our adventure and hopefully you are too! Thanks for checking us out!

Firemen's Meeting Room
Highway 139 S
Harmony, MN 55939
Phone: (507) 886-5211
First Southeast Bank
3 Main Avenue N
Harmony, MN 55939
Phone: (507) 886-6922
Web: www.firstsoutheastbank.com

For the past 113 years, our dedicated staff has made it our top priority to provide exemplary service to the community in which we live, worship, work and play. We are proud to call Harmony our home and are glad you have chosen our bank for your trust and financial needs. At First Southeast Bank, our customers and community are our number one priority and we look forward to being your financial partner now and for years to come.

Fit Express LLC
15 W Center Street
Harmony, MN 55939
Phone: (507) 886-5351
Web: www.fitexpressllc.com/harmony-mn



Way back around the turn of the 21st century Linda and Al Mathison of rural Preston, had a dream. That dream was to bring fitness centers to the small towns of Fillmore County, Minnesota. They opened their first center at 109 N. Broadway in Spring Valley in 2002. For the first year they ran a women's only facility but soon realized that men wanted to exercise too. They expanded to the upstairs and started adding equipment whenever they could, including cardio machines, weight machines and free weights. By 2003 they opened a fitness center in Preston, the county seat of Fillmore County. Their facility was small but they had a loyal following and when a larger building opened up downtown, they moved in and were able to expand their equipment line. Finally, in 2015 they opened a third facility, this one in Harmony. The three fitness centers have become an integral part of the community. The 24 hour access allows members to exercise during their free time, whenever that might be -- early in the morning or late at night.

Generations of Harmony Antique Mall
50 Industrial Blvd
Harmony, MN 55939
Phone: (507) 886-6660
Web: www.generationsofharmony.com

"Where yesterday becomes today." Whether you're looking to spend an afternoon, a day or the weekend in Historic Bluff Country, Generations of Harmony is a must-stop for all. We have over 85 dealers featuring antiques, collectibles, vintage, jewelry, primitives, glassware, dishes and so much more. In our newly constructed, one-level mall, you'll find every spacious aisle is a walk down memory lane. We and our vendors take great pride in giving you a clean and easy shopping experience. Daily 10-5.

Gundersen Harmony Care Center
815 Main Avenue S
Harmony, MN 55939
Phone: (507) 886-6544
Web: www.gundersenharmonycarecenter.org



Our 43 bed nursing home with attached clinic is located in the Bluff Country town of Harmony, MN. Under one roof you will find all the aspects of life; friendships, laughter, prayer, exercise, activities, therapy, medical care, and much more.

Gundersen - Harmony Clinic
805 Main Avenue S
Harmony, MN 55939
Phone: (507) 886-8888
Web: www.gundersenhealth.org

Gundersen Lutheran provides comprehensive care to residents of all ages throughout the Harmony region. From broken bones to well-child exams, our team of experts is here to help you. In most cases you will be able to see one of our providers the same day. We make it our priority to try to schedule our patients the same day they call for an appointment.

Guyer Trucking
333 5th Avenue SE
Harmony, MN 55939
Phone: (507) 951-2033
Hahn Lumber Company
745 Main Avenue N
Harmony, MN 55939
Phone: (507) 886-2232
Web: hahnlumber.weebly.com



Hahn Lumber is a small business located in southeastern Minnesota. This business sells building materials such as lumber, shingles, siding, windows, steel, insulation, nails, and many more building supplies needed to complete both small and large projects. We look forward to serving you. Thank you to all of our customers that have been a part of our business for over 40 years.

Hammell Equipment Inc
330 Main Avenue N
Harmony, MN 55939
Phone: (507) 886-2255
Web: www.hammellequipment.com

Hammell Equipment is proud to provide high quality services for farm equipment at four locations in southeastern Minnesota USA. We are a dealer for the following vendors:

Case IH, AGC0, Kinze, Meyer, H&S, Westendorf, Kuhn Knight, Simplicity, Vermeer, Feterl, Yetter, Wilrich, Killbros, Brillion, Stihl , McCORMICK , Ashland, Arctic Cat, Lax Fabricating, DEMCO, Bush Hog, Cub Cadet

Harmony Agri Service Inc
25 2nd Street NE
Harmony, MN 55939
Phone: (507) 886-6062
Web: www.harmonyagri.com

Harmony Agri Services origins date back to 1895 with a product history in feed, grain, coal, livestock, chemical and fertilizer. The company started out as a grain and feed business. In 1909 the business added a livestock enterprise and operated as the Wolsted Grain Company. After a few years coal was added and livestock eliminated and the company became known as The Harmony feed and Fuel Company.

Harmony Area Chamber of Commerce
15 2nd Street NW
Harmony, MN 55939
Phone: (800) 247-6466
Web: www.exploreharmony.com



Amish Farmer's Market. Niagara Cave. Bike Trail. Handcarved Hobo Camp. Movies, dining, antiques, lodging, shopping, woodcarving museum. Many Annual events.

Harmony Area Historical Society
15 2nd Street NW
Harmony, MN 55939
Phone: (507) 886-
Web: www.harmonymnhistory.org



Harmony has long been known as "The Biggest Little town in Southern Minnesota"; discover the big history of this little town. The Harmony Area Historical Society is committed to the collection, preservation, dissemination and interpretation of knowledge about the history of the Harmony Area and its unique geology. The Historical Society has developed interpretive exhibits describing this history and geology. We have developed and supported permanent exhibits at the Harmony Visitor Center and along the Harmony - Preston Valley State Trail. In addition, the society creates temporary exhibits during the summer and special events during the year.

Harmony Chiropractic Office
108 Main Avenue N
Harmony, MN 55939
Phone: (507) 886-6051



Dr. Janell M. Randa has been serving the chiropractic needs of the Harmony area for over 20 years. She offers chiropractic treatments for patients of all ages, in a privately owned and child-friendly environment. Schedule an appointment today and see how chiropractic care can improve your quality of life.

Harmony Community Center
225 3rd Avenue SE
Harmony, MN 55939
Phone: (507) 886-8122
Harmony Economic Development Authority
225 3rd Avenue SW
PO Box 488
Harmony, Minnesota
Phone: (507) 886-2846
Web: www.harmony.mn.us



The Harmony Economic Development Authority was organized by the City Council and dedicated volunteers who wanted to encourage participation in community development issues. The EDA's focus is on projects that make Harmony a better place to live, work, and do business. EDA members serve as advocates for economic development and have been involved in other issues including housing, business development, and trail development. The board is made up of five volunteer members, two members of the City Council and three members from the community. Members serve six year terms and are appointed by the Mayor with approval from the City Council.

Harmony Enterprises Inc
704 Main Avenue N
Harmony, MN 55939
Phone: (507) 886-6666
Web: www.harmony1.com

Since 1970 Harmony Enterprises has been designing and manufacturing superior waste management and recycling equipment. Our quality mindset and dedication to details has established us as a premier manufacturer of balers and compactors not only nationally, but worldwide. With over 40 models of vertical balers, automatic balers, and indoor and outdoor compactors to choose from, we offer product to fit the demand of any solid waste recycling need

Harmony Fire Department
Main Street S
Harmony, MN 55939
Phone: (507) 886-5211
Harmony Foods
55 W Center Street
Harmony, MN 55939
Phone: (507) 886-2225
Web: www.rushfordfoods.com

At Harmony Foods we strive to serve you. As your hometown market, we carry a wide selection to meet your grocery needs. We offer daily Deli lunch menu, full-fresh meat, produce and in-store bakery. Stop in and let us serve you.

Harmony Gardens and Floral
625 Main Avenue N
Harmony, MN 55939
Phone: (507) 886-4866



We are a local floral and gift shop with a greenhouse for all of your spring gardening needs. During the growing season, stop by to pick up fresh produce off of our wagon grown right here by our family! We look forward to seeing you soon!

Harmony Golf Carts
110 4th Street NE
Harmony, MN 55939
Phone: (507) 886-2127
Web: www.harmonygolfcarts.com

Looking for a golf cart for golf, home, camping, farm, or other uses, Harmony Golf Carts has been serving Southeastern Minnesota since 1994. We are located in Harmony Minnesota, we carry top brands and have a large selection of new/used, gas/electric, EZ Go/Yamaha golf carts. We also have parts and accessories, including canopies, coolers, ballwashers, windshields, rear seat kits, lift kits, wheels and tires, radios, club protectors and many other accessories. We think that you will be very happy with the service we provide and our selection of inventory.
Harmony Golf Clubb
435 5th Street NE
Harmony, MN 55939
Phone: (507) 886-5622
Web: www.harmonygolfclub.com

Harmony Golf Club is located on the east edge of Harmony, MN. Our par 36, 9-hole course of 2,904 yards is challenging and fun for all. Clubhouse facilities and services include a pro shop, lounge and short order food services. Golf Carts and Pull Carts available. We have banquet facilities for special events or meetings. You may wish to combine a meeting with a pleasant round of golf.

Harmony House Restaurant
57 Main Avenue N
Harmony, MN 55939
Phone: (507) 886-4612
Web: www.eatatharmonyhouse.com

At Harmony House Restaurant, home cooking abounds with delicious daily noon specials and a variety of selections on the menu. We are located in Downtown Harmony and offer a full line of breakfasts, omelets, homemade cinnamon and dinner rolls, burgers and sandwiches, plus daily lunch specials with real mashed potatoes, vegetables & salad. We also offer homemade soups and our homemade pies are a huge drawing point! …oh, and we make a great cup of coffee too!

Harmony Insurance Group
17 Center Street E
Harmony, MN 55939
Phone: (507) 886-2100
Web: www.harmonyinsurancegroup.com



As a locally owned and operated insurance agency in Harmony, MN, Harmony Insurance Group is committed to providing quality insurance products for individuals and businesses. We combine our strong insurance background and product knowledge to assist both current and future clients manage and plan for all types of potential risks. Our team of knowledgeable insurance professionals is experienced in creating personal and commercial insurance policies designed to fit your needs. With Harmony Insurance Group, our friendly staff will work with you on a one-on-one basis to develop not only the perfect policy, but a lasting relationship.

Harmony Kids Learning Center
720 Main Avenue N
Harmony, MN 55939
Phone: (507) 886-4552
Web: www.harmonykidslearningcenter.com



The Harmony Kids Learning Center is more than just a daycare or preschool. What started as a simple way to enhance the Employee Wellness Program at Harmony Enterprises Inc. has grown into family-focused Learning Center that will benefit the Harmony, Minnesota community as a whole.

Harmony Manor Apartments
445 Main Avenue S
Harmony, MN 55939
Phone: (507) 886-2137
Web: www.lloydmanagementinc.com



Join us at SMOKE FREE Harmony Manor Apartments, where seniors (62+) and those with disabilities feel at home. This small town environment is one hour from Rochester. The community room has a variety of scheduled activities. It includes an elevator and lovely breezeway. Plus you can bring your pet with you. Our staff is like extended family that will take care of the mowing and shoveling. If you are ready to take the next step to independent living, give Rosie a call today for a tour. You'll be glad you did.

Harmony News-Mabel Record
350 Main Avenue N # 4
Harmony, MN 55939
Phone: (507) 886-2453
Fax: (507) 346-7366
Web: www.bluffcountryreader.com

Harmony Public Library
225 3rd Avenue SE
Harmony, MN 55939
Phone: (507) 886-8133
Fax: (507) 886-1433
Web: www.harmony.lib.mn.us
Harmony Repair Service
540 Main Avenue N
PO Box 68
Harmony, MN 55939
Phone: (507) 886-2301

Harmony Repair service for all your automotive needs. There is nothing that we can't do for your vehicle. We are a full service gas station; can't find too many of us anymore. Come in and see us. Family owned business.

Harmony Roller Rink
605 Main Avenue N
Harmony, MN 55939
Phone: (507) 886-4444
Harmony Spirits
address to be determined
Harmony, MN 55939
Phone: (507) 251-1471
Web: www.harmonyspirits.net



Harmony Spirits will delight customers with a very consistent, high quality product made from locally sourced grain and other inputs from within the United States. The product line will include a high quality; whiskey, vodka, rum and gin all made from locally sourced grain. All spirits will be 100% handcrafted, extremely smooth, appealing to all segments of alcoholic beverage consumers. The product will be sold through multiple distributors throughout the United States, with the initial target market being Minnesota, Northern Iowa and Western Wisconsin.

Harmony Telephone Company
35 1st Avenue SE
Harmony, MN 55939
Phone: (507) 886-2525
Web: www.harmonytel.com


Harmony Veterinary Clinic
855 Wickett Drive NW
Harmony, MN 55939
Phone: (507) 886-6321
Web: www.harmony-cresco-vetclinic.com



The Harmony and Cresco Veterinary Clinics are a full-service, six doctor clinic providing medical, surgical, emergency and reproductive services to large animal clients, as well as, wellness exams, routine vaccinations, nutrition counseling, emergency, digital x-ray, chiropractic care to our small animal clients.

Harmony Visitor Center
15 2nd Avenue NW
Harmony, MN 55939
Phone: (507) 886-2469

The staff and volunteers are eager to help you plan a pleasant tour of the community by showing you information about local businesses and attractions. Welcome to Harmony, please stop in and see us.

Harvest Farm Campground
3690 318th Avenue
Harmony, MN 55939
Phone: (563) 883-8562
Web: www.wecamp.com

Harvest Farm was created by and for those who enjoy the peace and quiet of being in the country, away from city lights and sounds. We're more like a park where people camp and enjoy the great outdoors! You will experience a mixture of stately 100 plus year old Eastern White pine trees, magnificently aged Oaks and newly planted young trees, surrounded by 93 acres of manicured lawns, rustic woods, and rolling farmland. And with several wild flower plots throughout the park attracting a wide variety of songbirds, it makes for a truly relaxing environment.

Haugerud Painting & Drywall
105 Industrial Blvd
Harmony, MN 55939
Phone: (507) 886-8273
Hegg Farms
31683 County 44
Harmony, MN 55939
Phone: (507) 886-2242
Hovey Oil Co Inc
125 Highway 52
Harmony, MN 55939
Phone: (507) 886-2550
HTC Connects
35 1st Avenue NE
Harmony, MN 55939
Phone: (507) 886-2527
Web: www.htcconnects.com


Ironside Trailer Sales & Service
70 4th Street NW
Harmony, MN 55939
Phone: (507) 886-4600
Web: www.ironsidetrailersales.net

We have a selection of new & used trailers and we are an authorized dealer for Wilson, Kiefer Industrial, Road King, Alum-Line, H&H and Pacesetter trailers. See us for all your trailer needs. Snow plow sales & service too.

Jem Theatre
14 Main Avenue N
Harmony, MN 55939
Phone: (507) 886-7469
Web: www.jemmovies.com

JEM Theatre Established in 1940, the only movie theatre in Fillmore County; recently renovated. The JEM Theatre is located in Harmony's downtown area and features a historic look at a Theatre of the past. While the front of the theater represents a historic view, the owners pride themselves on getting new releases and popular movies. Their popcorn, with real butter, is a real treat for movie goers. Call us at (507) 886-SHOW

John Whalen Farms
13324 271st Avenue
Harmony, MN 55939
Phone: (507) 772-4495
Karaoke DJ Joe
135 4th Street SW
Harmony, MN 55939
Phone: (507) 438-7802
Kiehne Family Farms LLC
13546 US Highway 52
Harmony, MN 55939
Phone: (507) 886-3337
Kingsley Mercantile
2 Main Avenue N
Harmony, MN 55939
Phone: (507) 886-2323
Web: www.kingsleymercantile.com



Kingsley Mercantile is located in Harmony, Minnesota and is more than your home town hardware store. We offer everything from your basic hardware needs to paint, plumbing, electrical, heating and cooling, housewares, toys, gifts, auto supplies, pet supplies, lawn and garden. We also carry a full-line of appliances for your home including stoves, refrigerators, freezers, dishwashers, washers, dryers and so much more. In addition to a wide range of products, we also provide professional services including plumbing, HVAC appliance repair and commercial refrigeration.

Koliha Insurance Service
25 Main Avenue S
PO Box 656
Harmony, MN 55939
Phone: (507) 886-2484

An independent insurance agency representing many insurance companies for auto, home, business, health, Medicare supplement, cycle and recreational coverages.

Kwik Trip
415 Main Avenue N
Harmony, MN 55939
Phone: (507) 886-2424
Web: www.kwiktrip.com


Leon's Barber Shop
20 Main Avenue N
Harmony, MN 55939
Phone: (507) 886-4391
Lindstrom Funeral Home
505 Main Avenue S
Harmony, MN 55939
Phone: (507) 886-4681
Web: www.lindstromfuneralhomes.com



Explore the ways in which we can help you create a personalized, memorable experience and pay tribute to your loved ones in a variety of ways.

Looking Glass Prairie Furniture Store
24852 Klondike Road
Harmony, MN 55939
Phone: none



Quality Handcrafted Furniture Featuring quarter sawn white oak and many other wood pieces. Specializing in Bedroom Furniture. Dining & Bedroom Furniture. Cedar Chests. Hutches. Coffee & End Tables. Chairs, Rockers & Gliders. Benches. Shelves. Plant Stands. Hardwood Floors. Pine Log Furniture & Much More…Custom & Special Orders Available.

Martin Oil Company
60 1st Avenue SE
Harmony, MN 55939
Phone: (507) 886-5866
McKean Auto Sales
410 Main Avenue N
Harmony, MN 55939
Phone: (507) 886-2466
Web: www.mckeanauto.com



We're just a short drive from the Minneapolis St Paul area - well worth the drive for great savings on your next car or truck purchase! Please call us at 507-251-3271 to arrange a test drive or visit our website www.mckeanauto.com to view our complete inventory. Randy and Paul have over 50 years combined experience in car sales so you know you're in the right hands! McKean Auto can help you purchase your next car - our repeat business says it all about our service and quality!

Mikkelson Insurance
251 US Highway 52
Harmony, MN 55939
Phone: (507) 886-3001
Minnowa Construction Inc
850 Wickett Drive NW
PO Box 188
Harmony, MN 55939
Phone: (507) 886-6162
Web: www.minnowa.com

Located in Harmony, MN has been a respected & heavy civil contractor since 1984. Minnowa services include large complex interchange projects, grading, demolition, precast box culverts, dam renovation, historical bridge reconstruction, railroad bridges, bridge moving/rehabilitation/repair, concrete structures, foundation piling, cofferdam installations and culverts.

Morem Electric Inc
715 Main Avenue N
Harmony, MN 55939
Phone: (507) 886-4541
NAPA Auto Parts - S&S Automotive
35 W Center Street
Harmony, MN 55939
Phone: (507) 886-6111
Web: www.napaonline.com


Nethercut Schieber PLLP
32 Main Avenue NN
Harmony, MN 55939
Phone: (507) 886-6131
Web: www.nethercutlaw.com



Nethercut Schieber PLLP is a general practice office in Harmony, Minnesota serving businesses, residents, and local governments in Fillmore County and Houston County and throughout the Bluff Country region in southeast Minnesota and northeast Iowa. We focus on providing effective consultation and prompt services to meet our clients' legal needs. Conveniently located on Main Street in downtown Harmony, we encourage you to stop in to discuss how we can serve you.

Niagara Cavee
29842 County 30
Harmony, MN 55939
Phone: (507) 886-6606
Web: www.niagaracave.com



Rated one of the Top Ten Caves in the United States! ​Niagara Cave is one of the most fascinating and unique geological attractions in the United States. In fact, it has been rated one of the top ten caves in the United States by many outdoor recreation sites! On our 1-hour guided tour... Hike one mile underground Discover fossils ≈450 million years old See cave formations both delicate and massive View our underground waterfall Visit a subterranean wedding chapel where over 400 weddings have been performed. Niagara Cave is a constant 48 degrees F (9 degrees C), so a light jacket or sweatshirt is suggested.

Oak Meadow Farms
27133 146th Street
Harmony, MN 55939
Phone: (507) 886-4016
Web: www.oakmfarm.com



Performance with quality is the motto at Oak Meadow Farms. Our family has a strong commitment to producing honest, healthy, high quality simmgenetics. Oak Meadow Farms cattle excel in all phases of the industry. In the pasture, on the tanbark, or on the rail. Our cow herd is powerful and productive, our show string draws attention, and our affiliation with Oak Meadow Meats tells us are cattle are right on track.

Oak Meadow Meats
50 9th Street NE
Harmony, MN 55939
Phone: (507) 886-6328
Web: www.oakmeadowmeats.com



Located in Harmony, Minnesota, Oak Meadow Meats is a purveyor of the highest quality meats and specializes in personalized, old-fashioned service. Oak Meadow Meats opened in November 2010 and is located on the north side of Harmony, Minnesota. Since then, Michael and Vanessa Aggen have been serving high quality beef, pork, chicken and seafood, alongside a heaping dose of personalized service. You can lean on Oak Meadow Meats to equip you and your family with the tools to create a memorable meal.

On The Crunchy Side
31 Main Avenue N
Harmony, MN 55939
Phone: (507) 886-5560
POET Ethanol Products
110 Industrial Blvd
Harmony, MN 55939
Phone: (507) 886-2622
Web: www.poet.com



We have grown from a single, humble refinery in Scotland, South Dakota, to one of the world's largest producers of ethanol and other biorefined products. With products like our Dakota Gold distillers grains, Voila corn oil and JIVE asphalt rejuvenator, we are using that same innovative spirit to develop natural, renewable food sources and alternatives to petrochemicals. We have an integrated business model that combines technology development with expertise in construction, operations, risk management and marketing.

R & J Amish Furniture
590 Main Avenue N
Harmony, MN 55939
Phone: (507) 886-2777



Rueben and Jake Hershberger were born and raised in an Amish family. They learned how to build Amish furniture at a young age on the farm. At R&J Amish Furniture, they have been building and selling Amish Furniture since 1992. Currently they are retailing Amish furniture for their Amish family and friends.

Re/Max Select Properties
25 W Center Street
Harmony, MN 55939
Phone: (507) 886-4221
Web: www.semnrealestate.com



Servicing all of Southeast Minnesota & Northeast Iowa! The fastest and easiest way to find the perfect property in Historic Bluff Country is to call on the local experts. Roxanne nd Kelsey offer you the professional advice and tips as your local resource. We can show all properties listed with all companies. Residential, Homes on Acreage, Recreational, New Construction, Commercial, and Ag Land.

Roman Yoder Masonry
160 Ming Avenue
Harmony, MN 55939
Phone: (507) 421-2051
Ron Vikre Auction Company
155 2nd Avenue SE
Harmony, MN 55939
Phone: (507) 886-2910
Web: www.vikreauction.com
Slindee Pharmacy
44 Main Avenue N
Harmony, MN 55939
Phone: (507) 886-2322
Solberg Welding
345 2nd Avenue NW
PO Box 273
Harmony, MN 55939
Phone: (507) 886-4602
Web: www.solbergwelding.net

We are a manufacturer & repair shop for metals of all types. We also handle resale metals. Welding services of all types.

Stateline Insulated Concrete
220 1st Avenue SE
Harmony, MN 55939
Phone: (507) 886-2434
Sterling Drug
44 Main Avenue N
Harmony, MN 55939
Phone: (507) 886-32322
Web: www.sterlingdrug.com
Sugar Plum House
94 2nd Street NE
Harmony, MN 55939
Phone: (507) 886-2666
Web: www.village-depot.com/sugarplum.php



While you're biking the Root River or Harmony-Preston Valley Trail, stop in for a cool drink, smoothie or sandwich. We are located int he quaint victorinl pink and green cottage, where it's Christmas all year round. The Sugar Plum's claim to fame is the world renowned Amish candy "Cashew Crunch". We ship this delectible treat all over the world. Once you taste it, you're hooked.

Torgerson Auto Sales
55 Industrial Blvd
Harmony, MN 55939
Phone: (507) 886-2430
Web: www.torgersonautosales.com



We are a small town dealer that has been in business since 1998. We specialize in making sure that all the vehicles are gone through with our checklist. The checklist is available to our customers so they can see what was done to the vehicle. We want to make your buying experience an enjoyable event.

Torgerson-Ostby Floor Coverings and Stone
70 Main Avenue N
Harmony, MN 55939
Phone: (507) 886-4257



Locally owned and operated. Professional installation of carpet, tile, laminate, hardwood, vinyl, luxury vinyl tile, VCT and cultured stone.

Town & Country Collision Plus
360 Main Avenue N
Harmony, MN 55939
Phone: (507) 886-3000
Tyson Fresh Meats
610 Main Avenue N
Harmony, MN 55939
Phone: (507) 886-2533

closed
US Post Office
50 Main Avenue N
Harmony, MN 55939-8888
Phone: (507) 886-3772
Toll Free: (800) ASK-USPS
Web: www.usps.com
Village Depot
90 2nd Street NE
Harmony, MN 55939
Phone: (507) 886-2409
Web: www.village-depot.com

The Village Depot opened in the summer of 1987, and soon became so popular we added two other buildings to The Village Green. Barb Soma and Renee Barnes, Co-Owners, now spend time at markets and visiting the Amish, buying for the shops; each of which has its own unique atmosphere. The Village Depot is in its original location but The Village School and Quilt Shop, and Village Sugar Plum House were moved to their present locations on the Village Green. Barb and Renee love to reminisce about those first days restoring these old buildings; tearing down ceilings, pulling up tile, and painting and wall papering. Please, stop in for a cup of coffee and a visit to see what's new and old.

Village School Quilt Shop
92 2nd Street NW
Harmony, MN 55939
Phone: (507) 886-2409



The Village School Quilt Shop in Harmony, Minn. is home to the largest selection of handmade Amish quilts in the midwest. Our former one room school house, built in 1878, has been transformed into a showcase for local Amish items. Our quilts, wall hangings, and various quilted items are superb in workmanship and unsurpassed in beauty. You will enjoy seeing both pieced and appliquied items made in the finest tradition of the Old Order Amish. Our school entry houses a large collection of Amish books ranging fromt he academics to children's coloring books. We also carry books by local authors, cookbooks, Amish fiction and non-fiction, quilt books and patterns, Amish calendars, and Amish puzzles.

Village Square Restaurant
51 Main Avenue N
Harmony, MN 55939
Phone: (507) 886-4406
Web: www.villagesquareofharmony.com


The Village Square of Harmony takes pride in being a family restaurant. We are family owned and operated. Our employees and customers may not be family, however, we make sure that while they are here they feel like family. You'll find great prices and excellent service.

VIS Plumbing & Heating Inc
55 Main Avenue S
Harmony, MN 55939
Phone: (507) 886-2008
Web: www.visplumbingheating.com

Over the past years our company has grown to employ 5 employees. Barb takes care of all the bookwork for all of our businesses. We own and operate a gift store in the downtown location where we used to be located called Emil Farqart's. We take pride in our family owned and operated business running 45 years strong.

Wheelers Bar & Grill
605 Main Avenue N
Harmony, MN 55939
Phone: (507) 886-4444
Web: wheelers-bar-and-grill.business.site


Wiechman Pig Co Inc
230 4th Street NW
Harmony, MN 55939
Phone: (507) 886-7447
---
---
Aerial Photo:
---
Topographic Map: [click map to enlarge, zoom in or zoom out]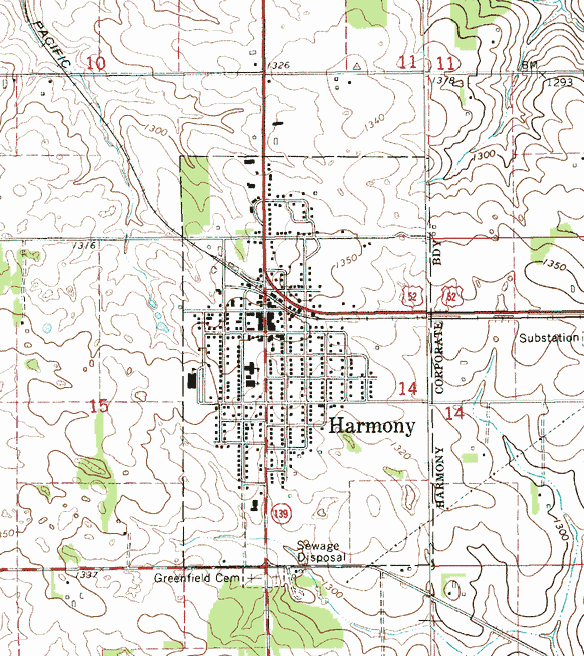 Topographic map is courtesy of the Minnesota DNR - click map to zoom or enlarge