Navigation

LakesnWoods.com
Home Page
Contact Us
Privacy


Visit The Minnesota History Shop
www.minnesotahistoryshop.com
Historic maps
Historic books
Historic framed art
Historic postcards
Clothing with historic images
And much more!!!



Mabel Guide:
Photo Gallery
Location
Geography
Demographics
History
Government
Post Office
News
Weather
Street Map
Events
Attractions
Recreation
Lakes
Health Care
Schools
Churches
Media
Motels
Resorts
Campgrounds
Businesses
Aerial Photo
Topographic Map

Nearby Communities:
Caledonia
Canton
Harmony
Houston
Lanesboro
Peterson
Preston
Rushford
Spring Grove

© 2004-2022
Lakeweb1 Internet Services
All Rights Reserved

DCMA, Defamation, Copyright and Trademark Infingement Policy

WANTED!

Do you have photos, historical accounts or other items pertaining to the Mabel area? Would you like to share this historical information with the world? LakesnWoods.com would like to publish your Mabel photos (current or historical) or historical accounts on this website. Original materials can be returned and your privacy will be respected.





















































Mabel Minnesota Community Guide
---
Location:
Located in the southeastern corner of Minnesota's bluff country, you will find the quaint city of Mabel. Mabel is a small town surrounded by beautiful rolling hills, streams and rich farmland.
Each season, mother nature brings something new and exciting to the area. Spring allows for biking, walking, watching the trees and flowers bloom and of course fishing. Sitting in a valley, there are many streams and creeks where fisherman can bait their hooks and enjoy the day. Summer lets locals and visitors spend time with family and friends with ample camping in the area. Fall is always busy with hunting. Hunters from all over "big city" Minnesota, head down to Mabel to take in the beauty and wildlife. Winter allows for men, women and children snowmobilers to cruise around the gorgeous white snow covered trails kept groomed by local snowmobile clubs.
Courtesy
City of Mabel
---
Mabel (city)
1970
1980
1990
2000
2010
2000-2010 Change
Actual
Percent
Population
888
861
745
766
780
+14
+1.83
Land Area (sq. mile)
0.50
0.48
0.47
0.47
0.48
+0.01
+2.12
Density (persons per sq. mile)
1,776.0
1,793.8
1,585.1
1,618.4
1,625.0
+6.6
+0.41
Housing Units
326
374
328
365
394
+29
+7.95
Households
--
348
316
337
359
+22
+6.13
Persons Per Household
--
2.26
2.12
2.09
2.03
-0.06
-2.96
---
Mabel is a city in Fillmore County, Minnesota. Minnesota State Highways 43 and 44 are two of the main routes in the community. According to the United States Census Bureau, the city has a total area of 0.5 square miles (1.2 km²), all of it land. The elevation is 1,132 ft (345 m) above sea level.
From Wikipedia, the free encyclopedia.
---
As of the census of 2010, there were 780 people, 359 households, and 192 families residing in the city. The population density was 1,625.0 inhabitants per square mile (627.4/km2). There were 394 housing units at an average density of 820.8 per square mile (316.9/km2). The racial makeup of the city was 99.0%White, 0.1% Native American, 0.1% Asian, 0.3% from other races, and 0.5% from two or more races. Hispanic or Latino of any race were 0.6% of the population.
There were 359 households of which 21.4% had children under the age of 18 living with them, 39.6% were married couples living together, 8.6% had a female householder with no husband present, 5.3% had a male householder with no wife present, and 46.5% were non-families. 39.8% of all households were made up of individuals and 23.4% had someone living alone who was 65 years of age or older. The average household size was 2.03 and the average family size was 2.70.
The median age in the city was 49.6 years. 19.1% of residents were under the age of 18; 6.3% were between the ages of 18 and 24; 20% were from 25 to 44; 23.2% were from 45 to 64; and 31.5% were 65 years of age or older. The gender makeup of the city was 45.8% male and 54.2% female.
From Wikipedia, the free encyclopedia.
---
MABEL, a railway village in Newburg, was platted by Frank Adams, chief engineer of this railway, giving it the name of his little daughter who had died. It was incorporated as a village in 1893; the post office was first called Bellville, 1855-80, with Wilson Bell as postmaster.
Courtesy Minnesota Historical Society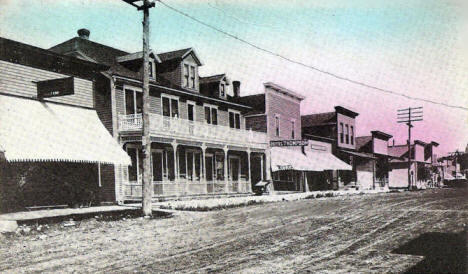 West side of Main Street, Mabel Minnesota, 1911
LakesnWoods.com Postcard and Postcard Image Collection- click image to enlarge

Visit The Mabel Photo Gallery for more recent and historic area photos
---
Mabel City Hall
201 S Main Street
PO Box 425
Mabel, MN 55954
Phone: (507) 493-5299
Fax: (507) 493-3299

Regular Business Hours:
Monday – Friday, 8:00 am to 3:00 pm

City Council Meetings:
2nd Wednesday of the month at 6:00 pm


Title
Term Ends
Name and Address
Phone
Mayor
12/31/2022
James Westby
614 E Fillmore Avenue
Mabel, MN 55954
(507) 493-5457
(507) 206-9542
City Clerk
appointed
Karen Larson
PO Box 425
Mabel, MN 55954
(507) 493-5299
Council Member
12/31/2022
Terry L Torkelson
307 Fillmore Avenue E
Mabel, MN 55954
(507) 493-5951
Council Member
12/31/2022
Adam Wilder
324 Minnesota Avenue W
Mabel, MN 55954
(507) 493-5196
(507) 459-2404
Council Member
12/31/2024
Kirsten Wyffels
233 S Robert Street
Mabel, MN 55954
(507) 493-5972
Council Member
12/31/2024
Cory Wilson
103 Karli Drive
Mabel, MN 55954
(507) 493-5040
---
US Post Office
106 S Main Street
Mabel, MN 55954-9754
Phone: (507) 493-5348
Toll Free: (800) ASK-USPS

Regular Business Hours:
Week Days 8:00 am - 12:30 pm
1:30 pm - 4:00 pm
Saturday 9:00 am - 11:00 am
---
---
---
---
---
---
---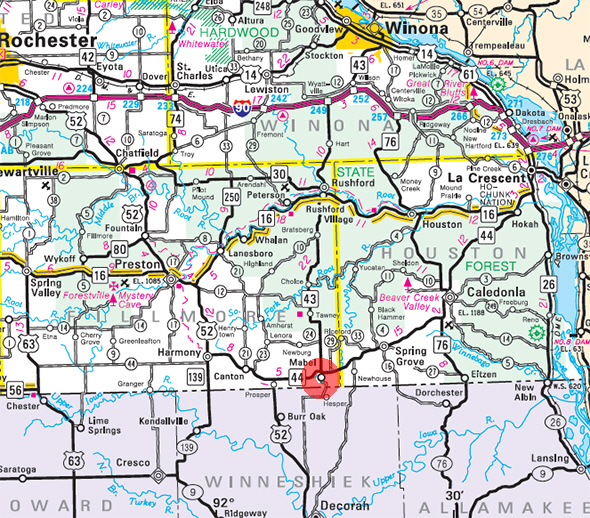 Minnesota State Highway Map of the Mabel Minnesota area
---
---
---
---
Lakes:
Lake Name
Size
(acres)
Lake info
Lake Map
Rec Map
Topo Map

none in the immediate area
---
Health Care:
Winneshiek Medical Center - Mabel Clinic
114 Main Street S
Mabel, MN 55954
Phone: (507) 493-5115
Web: www.winmedical.org/mabel-clinic

The Mabel Clinic provides family medicine services such as: Well child exams Athletic physicals Well-woman exams Obstetric care Care for chronic illness like diabetes, hypertension or COPD Immunizations Walk-in Wellness Testing Strep tests Same day appointments for illness Additionally, Mabel Clinic provides DOT exams and care for work-related injuries. Medical direction for Winneshiek Medical Center is provided by Mayo Clinic Health System.
---
Schools:
---
Churches:
---
Media:
---
Motels:
Mabel House Hotel
117 S Main Street
Mabel, MN 55954
Phone: (507) 493-5768
Web: www.mabelhousehotel.com

The Mabel House is the oldest running hotel in the state of Minnesota and is rich, not only in history, but with the natural resources in and around Mabel. Mabel was one of the stops in the railroad which connected Minneapolis with Chicago and if you are interested in stepping back in time and are truly looking for the most 'unique' place to visit in Southeast Minnesota's Bluff Country then discover Mabel and the Mabel House Hotel.
Check for motel rates and availability on:
---
Resorts:
---
Campgrounds:
---
Businesses:
American Legion Post #299
114 N Main Street
Mabel, MN 55954
Phone: (507) 493-5127
Bank of the West
101 E Newburg Avenue
Mabel, MN 55954
Phone: (507) 493-5426
Web: www.bankofthewest.com

Millions of customers across 19 states choose us as their bank Our tie to BNP Paribas, a leading international bank, gives you the security and innovative thinking of a bank with global strength. Start with our Any Deposit Checking Account where one deposit per statement cycle waives the monthly service charge. Pick from our competitively priced credit cards, loans1 and other financial services. You'll find that we've got what you're looking for.
BBG's
101 N Main Street
PO Box 493
Mabel, MN 55954
Phone: (507) 493-5800

Very good homestyle cooking! Cheap Prices. Great food!


Brenda's Boutique
614 Fillmore Avenue E
Mabel, MN 55954
Phone: (507) 493-5457
Brumm's Plumbing & Heating LLC
42607 174th Street
Mabel, MN 55954
Phone: (507) 493-5507

Brumm's Plumbing & Heating provides a range of top-notch services including: plumbing, heating, air conditioning, excavation, and Taylor wood-stove sales
Cherrywood Estates
101 Cherrywood Drive
Mabel, MN 55954
Phone: (507) 451-8524
Web: www.lifestyleinc.net/cherrywoodestates.asp

Head or co-head must be 62+ or disabled to qualify for the Studio & 1 bedroom apartments. Household must have at lest 2 people to qualify for 2 bedroom family units. Off street assigned parking with plug-ins, on-site laundry, playground, community room & indoor mailboxes. Quiet rural community. Pets allowed in senior building only with $300 deposit (size & breed restrictions). Companion and service animals allowed with proper authorization.
Craig's Auto Repair
11753 State Highway 43
Mabel, MN 55954
Phone: (507) 493-5399
Croell Ready Mix
11941 StateHighway 43 N
Mabel, MN 55954
Phone: (507) 493-5870
Web: www.croell.com

Croell, Inc. has been a producer of quality concrete since 1968. We strive to be the best at what we do and never forget that our valued customers come first. In addition to Redi-Mix, our product line includes paving, asphalt, seal coating, gravel, sand and stone.
Engen Construction Inc
210 N Locust Street
Mabel, MN 55954
Phone: (507) 493-5252
Evangelene's
416 N Maple
Mabel, MN 55954
Phone: (507) 493-5893
Farmers Win Co-op
10953 Berry Lane
Mabel, MN 55954
Phone: (507) 493-5070
Web: farmerswincoop.agricharts.com/mabel

Focus on personal service from dedicated, knowledgeable and experienced employees Agronomy services include an on-site agronomist, soil sampling, scouting and nutrient plans Custom broad-cast dry fertilizer application and custom spraying (pre-plant, pre-emergent, post-emergent and aerial application) Full line of chemicals including insecticides and fungicides from leading chemical companies
Floor Safety Solutions
126 Main Street N
Mabel, MN 55954
Phone: (800) 507-8806
Web: www.floorsafetysolutionsmn.com

Our product is a uniquely formulated chemical compound designed to react with silica sand in any mineral surface such as concrete, ceramic tile, terrazzo, marble, porcelain, slate, quarry tile, river rock, polished stone, or glazed brick. The result of the chemical reaction with the surface is a creating of a tread pattern that provides a positive slip resistant surface.
Geving Drivey Wall & Texturing
46039 County 18
Mabel, MN 55954
Phone: (507) 493-5388
Gjere Construction
43506 State Highway 44
Mabel, MN 55954
Phone: (507) 493-5864
Web: www.gjereconstruction.com

Poured foundation Residential Footings Walls Floors Driveways Feed Lots Manure Pits Rock Sand Excavation Demolition Foundation Water Proofing
Green Lea Senior Living
115 N Lyndale Street
Mabel, MN 55954
Phone: (507) 493-5436
Web: www.greenleaseniorliving.com

Green Lea Senior Living offers the comfort and convenience of home in a campus community that provides a wide variety of lifestyle options and individualized services based on your personal needs. You'll enjoy meeting new people and joining fun and exciting activities. Located in a quiet neighborhood setting, while being close to a variety of dining and shopping options, you will find it easy to call our community home. Green Lea Healthcare Center is a skilled, compassionate community offering outpatient therapy, short stay rehabilitation, and long term care services.
Holland Agency
121 S Main Street
Mabel, MN 55954
Phone: (507) 493-5866
Hy View Feeds
40928 County 18
Mabel, MN 55954
Phone: (507) 493-5564
Web: www.hyviewfeeds.com

Hy View Feeds began in 1989 by providing livestock producers of SE Minnesota an independent alternative for feeding their livestock. We belive that balanced nutition and education are two of the most important tools a livestock owner must have. Hy View Feeds includes processing by roasting and extruding and has two seperate facilities. One dedicated solely to organic feed, the other used for conventional and non GMO products. We formulate and manufacture our own brand of feeds, supplements and minerals, whether it be organic, nonGMO or conventional. Our grains are all cleaned prior to storage.
Icon Constructors
13498 County Road 28
Mabel, MN 55954
Phone: (507) 493-5590
Web: www.iconbridgellc.com

ICON Constructors, LLC is a Minnesota-based bridge and heavy highway/civil contractor that specializes in slab, concrete girder, steel superstructure and timber bridges, as well as structural concrete, sheet piling, pile driving, and concrete paving. ICON is dedicated to providing quality services to County, State and private entities throughout the states of Minnesota and Iowa. With a strong emphasis on skill, efficiency and professionalism, ICON Constructors, LLC is committed to completing projects safely, within budget and on time, while building business relationships based on honesty and performance.
Larson Well Drilling & Pump
45207 160th Street
Mabel, MN 55954
Phone: (507) 493-5087
Larson's Trustworthy Hardware
122 S Main Street
Mabel, MN 55954
Phone: (507) 493-5200
Lee Builders
42518 State Highway 44
Mabel, MN 55954
Phone: (507) 493-5888
Local Union 669
332 W Minnesota
Mabel, MN 55954
Phone: (507) 493-5671
Mabel Area Food Shelf
202 Oak Street N
Mabel, MN 55954
Phone: (507) 493-5783
Web: www.mabelfoodshelf.org
Mabel Barber Shop
125 S Main Street
PO Box 568
Mabel, MN 55954
Phone: (507) 493-5801
Mabel BP
305 State Highway 44
Mabel, MN 55954
Phone: (507) 493-5924
Mabel City Offices
207 N Main Street
Mabel, MN 55954
Phone: (507) 493-5299
Web: www.cityofmabel.com
Mabel Clinic
114 S Main Street
Mabel, MN 55954
Phone: (507) 493-5115
Web: www.winmedical.org/mabel-clinic

The Mabel Clinic provides family medicine services such as: Well child exams Athletic physicals Well-woman exams Obstetric care Care for chronic illness like diabetes, hypertension or COPD Immunizations Walk-in Wellness Testing Strep tests Same day appointments for illness Additionally, Mabel Clinic provides DOT exams and care for work-related injuries. Medical direction for Winneshiek Medical Center is provided by Mayo Clinic Health System.
Mabel Co-Op Telephone Company
214 N Main Street
Mabel, MN 55954
Phone: (507) 493-5411
Web: www.mabeltel.coop

Mabel Cooperative Telephone Company provides phone and broadband service to the following exchanges: Mabel, Minnesota 507-493 Prosper, Minnesota 507-733 Burr Oak, Iowa 563-735 Hesper, Iowa 563-496 Ridgeway, Iowa 563-737
Mabel Flowers & Gifts
105 S Main Street
Mabel, MN 55954
Phone: (507) 493-5400
Web: www.mabelflowers.com

We're a local Mabel, Minnesota florist with a lovely variety of fresh flowers and creative gift ideas to suit any style or budget. We hope you enjoy your online shopping experience with secure 24-hour ordering right at your fingertips. If preferred, you may call us to place orders direct at (507) 493-5400. It is our pleasure to assist you with any local, as well as worldwide deliveries and remember that corporate accounts are always welcome. For your convenience, we offer daily floral delivery to local hospitals and funeral homes.
Mabel-Harmony News-Record
105 S Main Street
PO Box 307
Mabel, MN 55954
Phone: (507) 493-5204
Web: www.thenews-record.com

Weekly newspaper published on Thursdays with a circulation of 1,146

Mabel House Hotel
117 S Main Street
Mabel, MN 55954
Phone: (507) 493-5768
Web: http://www.mabelhousehotel.com

The Mabel House is the oldest running hotel in the state of Minnesota and is rich, not only in history, but with the natural resources in and around Mabel. Mabel was one of the stops in the railroad which connected Minneapolis with Chicago and if you are interested in stepping back in time and are truly looking for the most 'unique' place to visit in Southeast Minnesota's Bluff Country then discover Mabel and the Mabel House Hotel.
Mabel Liquors
106 S Main Street
Mabel, MN 55954
Phone: (507) 493-5544
Mabel Public Library
110 E Newburg Avenue
Mabel, MN 55954
Phone: (507) 493-5336
Web: http://mabel.lib.mn.us/
Mabel Sportsman's Club
PO Box 117
Mabel, MN 55954
Phone: (507) 493-5457
Masters Howard Village Apartments
105 N Elm Drive # 5
Mabel, MN 55954
Phone: (507) 493-5815
Meadows of Mabel
610 E Newburg Avenue
Mabel, MN 55954
Phone: (507) 493-5995
Web: www.twdcc.com/The-Meadows-of-Mabel

Assisted living - 1 & 2 BR Apts/ complete kitchens, 24-hr/day staffing, weekly laundry, linen, housekeeping, 3 meals/day
Mengis Funeral Home
301 N Maple
Mabel, MN 55954
Phone: (507) 493-5129
Web: www.mengisfuneralhome.com
Odell Lee Agency
102 S Main Street
Mabel, MN 55954
Phone: (507) 493-5183

Phase Three Construction
101 Railway Avenue
Mabel, MN 55954
Phone: (507) 493-5640
Pit Stop Service
102 W Prairie Avenue
Po Box 134
Mabel, MN 55954
Phone: (507) 493-5538

Auto service & repair, custom exhaust, Cooper tires
Prosper Lumber Company
10464 County 113
Mabel, MN 55954
Phone: (507) 733-5473
Web: www.prosperlumber.com

Prosper Lumber can help the Do-It-Yourselfer bring your building dreams to fruition...or recommend a good contractor should the dreams need some more help: • Design Services • Free Delivery • Recommendations • Samples and Demos • Contractor Referrals
R & C Wood Cabinetry
102 N Maple
Mabel, MN 55954
Phone: (507) 493-5253
Semcac Dining Center
201 Main Street S
Mabel, MN 55954
Phone: (507) 493-5950
Web: www.semcac.org

Semcac Senior Dining has nearly 60 dining sites in 11 Southeast Minnesota counties: Dodge, Fillmore, Freeborn, Goodhue, Houston, Mower, Olmsted, Rice, Steele, Wabasha and Winona.
Split Endz
118 S Main Street
Mabel, MN 55954
Phone: (507) 493-5600

Full service hair salon, waxing, piercing, tanning, nails, massage
Stellar Cleaning
42971 104th Street
Mabel, MN 55954
Phone: (507) 493-5101
Steuart Labs
142 S Main Street
Mabel, MN 55954
Phone: (507) 493-5525
Web: www.steuartlaboratories.com

Steuart Laboratories offers more than 25 lotions, ointments and creams for a variety of human and animal skin conditions and injury healing. Our products promote healthier skin, tissue repair, wound healing and relief from joint, muscle and nerve pain. Our products are all-natural and they work faster than any steroid and capsaicin driven formulations out in the market.
STS Plumbing & Heating
14290 State Highway 43
Mabel, MN 55954
Phone: (507) 493-5282
Tri-State Insulated Concrete Forms
42518 State Hwy 44
Mabel, MN 55954
Phone: (507) 493-5888
Web: www.tristateicf.com

Tri-State Insulated Concrete Forms services Southeastern Minnesota, Northeast Iowa, and the Coulee region of Wisconsin. Our company has over ten years experience in the ICF business, providing knowledge and support to contractors and homeowners. We distribute the Reward iForm and Tritex Xillix form, along with all the accessories needed to build your dream home.
US Post Office
106 S Main Street
Mabel, MN 55954
Phone: (507) 493-5348
Web: www.usps.com
Village Farm & Home
11748 State Hwy 43
Mabel, MN 55954
Phone: (507) 493-5217
Web: ww3.truevalue.com/villagefarmhometruevalue
Well Drilling Pump Service
11753 State Highway 43
Mabel, MN 55954
Phone: (507) 458-7681
Winneshiek Medical Center - Mabel Clinic
114 Main Street S
Mabel, MN 55954
Phone: (507) 493-5115
Web: www.winmedical.org/mabel-clinic

The Mabel Clinic provides family medicine services such as: Well child exams Athletic physicals Well-woman exams Obstetric care Care for chronic illness like diabetes, hypertension or COPD Immunizations Walk-in Wellness Testing Strep tests Same day appointments for illness Additionally, Mabel Clinic provides DOT exams and care for work-related injuries. Medical direction for Winneshiek Medical Center is provided by Mayo Clinic Health System.
Wold Strawberry Farm
22988 Berry Drive
Mabel, MN 55954
Phone: (507) 493-5897
Web: www.woldstrawberries.com

Our farm has truly been a family farm for over 100 years. It is located in the rolling hills of southeastern Minnesota, in the driftless zone. The farm was settled in 1880 by my great, great grandfather, Knut Wold. Knut's family included Henry, who went on to raise my grandfather Hildus and his four siblings. Hildus married Jane in 1940, and raised two sons, Wayne and Barry, and a daughter, Susan. Together as a family they farmed the land.
Woxland's Pump Repair
41642 State Hwy 44
Mabel, MN 55954
Phone: (507) 493-5163
---
Aerial Photo:
---
Topographic Map:
[click map to enlarge, zoom in or zoom out]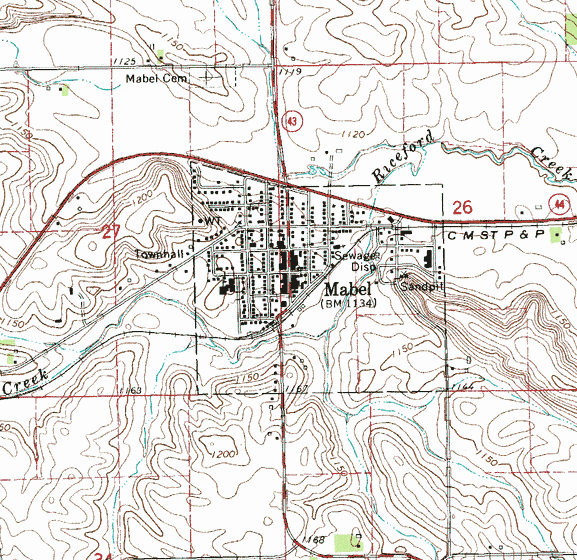 Topographic map is courtesy of the Minnesota DNR - click map to zoom or enlarge